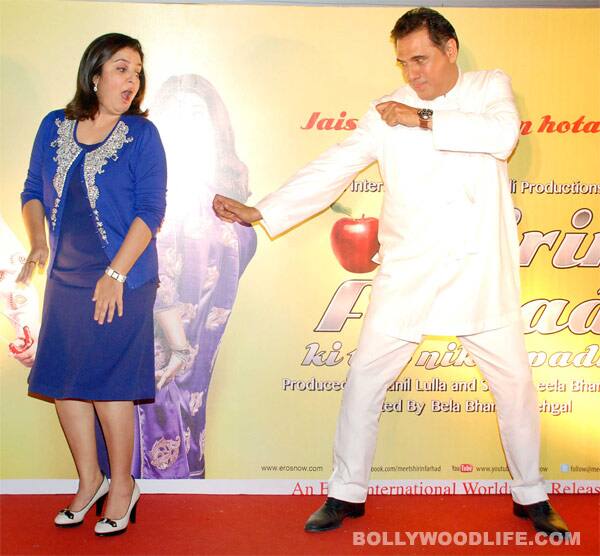 That's just one of the several witty remarks the director-turned-actor made while ably supported by Boman Irani
Farah Khan is a firecracker, says Bela Bhansali Sehgal and you readily agree. The choreographer-turned-director makes her acting debut in Bela's Shirin Farhad Ki Toh Nikal Padi and was at her wittiest best at the unveiling of the film's trailer and poster. When informed about Shahrukh Khan complimenting her look in the first poster, she replied, "Shahrukh has always had the hots for me." Then she looked at Boman Irani standing next to her and said, "Sorry Boman, you are second in line."
She also made digs at industry clichés. Here's what she had to say:
On putting away her director's hat and only act: "I handed over total control to Bela. I was just an actress, throwing tantrums on the sets!"
On her slimmer figure: No dieting. Joh Bhagwaan nahin deta, woh doctor deta hai – in Rakhi Sawant's words you know (What God doesn't give, the doctor gives)
On her equation with Boman Irani: (batting her eyelashes) I spent a lot of time with Boman to study about Parsis while preparing for the role. But we are just good friends.
On Boman's nude-but-for-a-towel scene: They could have given me Ranbir in a towel! What I'll do with Boman? That day my mother-in-law had also come to the sets!
While she dished out a lot to Boman, she didn't seem like she could take it back when Boman turned his own brand of humour on her. Here's what he had to say:
On his nude-but-for-a-towel scene: I had three nannies, with the best view in the house right there on the sets. Farah deliberately brought her mother-in-law that day.
Which Farah countered with: No! Why will I do that?
On the kissing scene Farah refused to do: She would come to my vanity van and say, 'Boman let's rehearse the kissing scene'. And we would rehearse for an hour and an hour and a half. Then she would go on the sets and tell Bela, 'I don't want to do this scene'. Then she'll come back to the van and say, 'Let's rehearse.'
Farah replied: No! I didn't do that! I am married with three kids!
Boman shot back: So am I!
On what Farah took back from the shooting: Let me answer that. Farah has told me that the next time she goes shopping for these things (lingerie), I should go with her as now I am an expert on the subject (he plays a lingerie salesman in the film).
Farah blushed and insisted: No! I never said that!
The two had all the mediapersons assembled at the event in splits. If they are even half as funny as this in the film, it would be worth a watch.
WATCH: