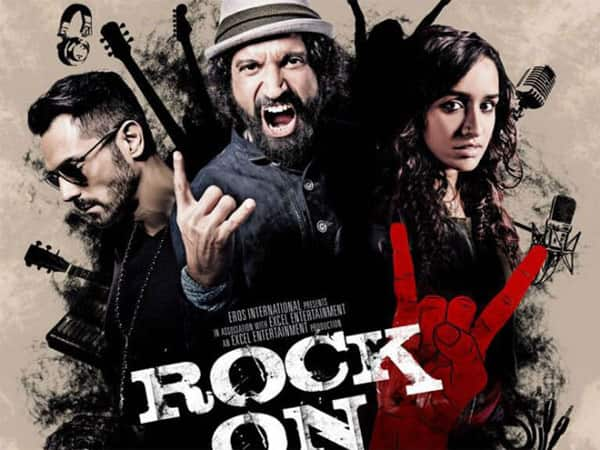 Rock On.. hai ye waqt ka ishaara.. we still cannot stop humming the song every time we hear it. After impressing us with its previous soundtracks, Rock On!! 2 is all set to unveil the Rock On 2 anthem tomorrow and we are sure that this one is going to be way better than the Rock On!! anthem. So since the anthem is going to be releasing tomorrow we have got a sneak peek of what it has got in store for you. Rock On!! 2's Rock On Revisited will take you on a trip down the memory lane! If you have been a Rock On fanatic, Rock On Revisited will leave you high on nostalgia. From revisiting friendship goals, to revisiting the euphoria exhibited by the Rock On franchise, the song will leave you humming to its lyrics. Rock On revisited is an extended reprise version of it's prequel's title track. Following the lines, 'Rock On.. hai yeh waqt ka ishara..' the song is a perfect transportation to the prequel while leaving you with the added freshness of the sequel.
Touring around Mumbai, the video of Rock On revisited will lead you to rediscover the city of dreams. Says a source, "The song's footage will include places like CST station, popular bus stops, the Air India office, the Brihanmumbai Municipal Corporation (BMC), et all!" Shooting the song was an experience that the old members of the band Magik and the new members of the band truly cherished. "This song has been very special for me and the team. We are happy to bring back Rock On!! 2 anthem to all our fans. We hope you enjoy it as much," said lead actor Farhan Akhtar. Rock On revisited features Farhan Akhtar, Shraddha Kapoor, Arjun Rampal, Purab Kohli and Shashank Arora. (ALSO READ: Farhan Akhtar's preference for Shraddha Kapoor miffs his Rock on 2 co-stars?)
Apparently, the entire team of Rock On!! 2 is miffed with Farhan Akhtar because he has been extensively promoting Shraddha for the film.
The cast feels that he's giving all the importance to her alone while neglecting the rest of them including Arjun Rampal and Purab Kohli. According to reports in DNA, the cast feels that the movie is being promoted as Shraddha and Farhan's alone which is exactly opposite of the first Rock On.
Shraddha Kapoor flaunting her bikini body in a still

Shraddha Kapoor looks extremely sensuous in this blue bikini in this hot still from one of her movies.

Image credit: Twitter

Sharddha Kapoor in blue bikini enjoying the sea

Sharaddha Kapoor looks super hot in blue bikini in this still from her movie Baaghi.

Image credit: Twitter

Shraddha Kapoor gives sultry pose wearing hot bikini in the sea

Shraddha oozes the oomph factor in this hot still from her movie.

Image credit: Twitter

Shraddha Kapoor flaunting her toned back in hot bikini

That hot and toned back does complete justice to Shraddha's toned bikini.

Image credit: Twitter

Shraddha Kapoor becomes beach babe in hot blue bikini

Shraddha looks ravishing in that blue bikini while posing in the fresh blue sea.

Image credit: Twitter

Shraddha Kapoor's hot bikini still from a movie

The hot bikini still from Shraddha Kapoor's movie Baaghi.

Image credit: Twitter