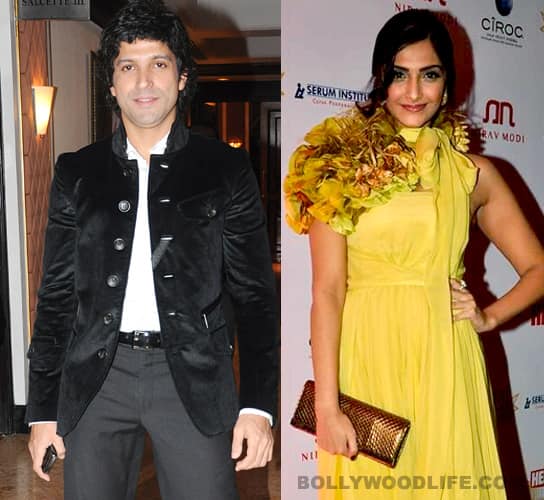 The Don 2 director is trying to get fit for the biopic, while the Kapoor gal is going back in time
Despite the fact that Delhi 6 tanked at the BO, we eagerly await Rakeysh Omprakash Mehra's next film Bhaag Milkha Bhaag – based on the life of Olympian Milkha Singh. Especially now that he's got Farhan Akhtar to play the lead role. Yes, he's got Sonam Kapoor to play the female lead role, but sorry, it just doesn't pique our interest that much. So, as we were saying, the film will be shot in mid-2012 and we hear that Farhan is preparing for the role with gusto. He spent a couple of days with the legend, better known as 'The Flying Sikh', in Delhi and developed a good rapport with him. He will also be in touch with him throughout the making of the film so he can perfect the nuances of an athlete's career. Singh said in a recent interview, "I want every child in this country to draw inspiration from this film and do what I did… They should make it to Olympics one day." We heard that director Mehra has also written to various coaches in the country with the help of Milkha Singh, seeking their inputs. These sports consultants will prepare a rigorous training schedule for Farhan, so he'll be physically ready to play one of India's biggest sport stars.
Not only Farhan, even his co-star Sonam will have to specially train herself for this film. But fortunately for her, it's not in fitness. She has to get used to giving up all the luxuries of life! The Players actor will play a village belle in Bhaag Milkha Bhaag and so will sacrifice all the luxuries she can afford in real life to look authentic in the reel one. She will have to sweat it out without air conditioners, make-up and the latest gizmos and other luxuries a star normally takes for granted. It will be quite a task for Bollywood's style diva-in-the-making, don't you think? We just hope all the running around doesn't exhaust Farhan the filmmaker – we do want Don 3! And as for Sonam, well, she is known for falling ill during shoots of films that ended up flopping. Maybe if she tried to stay fit during Bhaag Milkha Bhaag shoot, the film will do well. Do you agree?