Farooque Shaikh: Listen Amaya is not about adult sex
Dhiren Trivedi
Last Updated: 6.21 PM IST 01.16.2013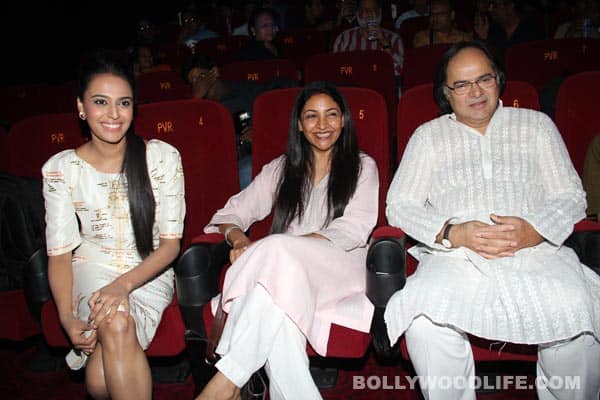 Sign up for the BL newsletter!
The Chashme Buddoor actor, who will share screen space with Deepti Naval after almost three decades in Listen Amaya, released the film's promo amidst much fanfare
Even before its release, the Farooque Shaikh-Deepti Naval starrer, Listen Amaya has been garnering good buzz, what with the film all set to be screened at the 15th London Asian Film Festival to be held in March this year. Directed by debutant Avinash Kumar Singh, the film tells the story of Amaya (played by Swara Bhaskar) and her widowed mother (Deepti Naval), who begins to develop a relationship with Amaya's friend played by Farooque Shaikh. "The film is about the relationship between two adults. It's about being happy and the right to be happy," said Avinash, while Farooque clarified, "Listen Amaya is not about adult sex. It's a sensitively told story of a mother and daughter."
Popular radio jockey Mallishka, who hosted the event, quizzed Deepti and Farooque on the changes they have seen in each other over the past so many years. Farooque said, "She is still the same and not changed a bit. I am still in awe of her. She kept me on my toes all the time." Deepti intervened and joked, "Farooque has definitely changed. He's in a round form now."
We wish the actors and the film's makers all the very best!
First Published: 9.00 AM IST 01.17.2013