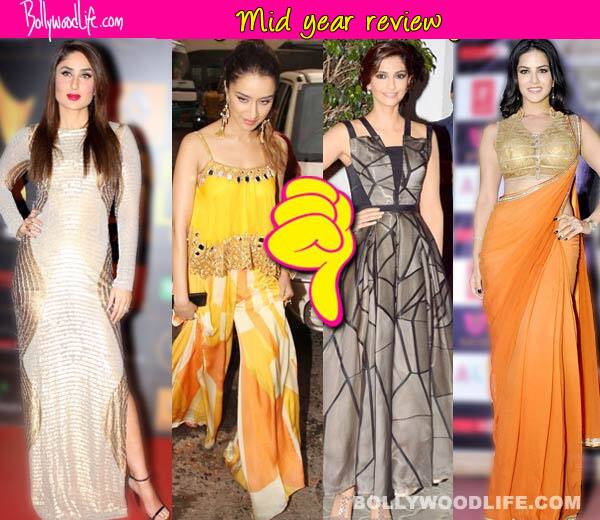 skip advertisement
We are over six months into 2014 already, so we at BollywoodLife thought of conducting a mid-year fashion review. Here's our verdict
Half a year has passed with more than dozen appearances from Bollywood divas. While some have impressed, some of them have just disappointed us despite giving them many chances. So we have made a list of the worst dressed celebs of 2014. Who all are a part of this unfortunate list, you ask?
The fashion nightmares of Bollywood till June 2014 include: sexy Sunny Leone, Vidya Balan, Shraddha Kapoor, Sonam Kapoor and Kareena Kapoor Khan. Let's take a look!
Sunny Leone: There's no denying she's sexy, but if only we could say the same about her choice of clothes. In fact, Leone looks super hot in her movies too, but off the screen, at events and awards functions, the babe just fails miserably. Take a look!
– At an awards function held earlier this year, Sunny Leone had opted for a black saree. The sequined blouse with feathery straps looked just so tacky that we were shocked!
– In Rohit Verma saree: During an event celebrating the success of Ragini MMS 2, Sunny had chosen an orange Rohit Verma saree that she had teamed with a golden blouse. Someone needs to teach Leone how to drape the pallu of a saree. Tsk tsk!
– At another awards function held earlier this year, the Ragini MMS 2 actor had posed on the red carpet in a gold gown. Though she has a figure to envy and curves to die for, that gown killed it all!
Shraddha Kapoor: The Ek Villain actor is cute. However, when it comes to her dressing sense, she needs to be careful. She tries hard to look hot and it barely ever works in her favour. We like it when she plays it casual. But quite often she's given us 'tacktastic' appearances. Look!
– In Arpita Mehta : While promoting Ek Villain, Shraddha was seen in Arpita Mehta jumpsuit. The mirror work on the top looked tacky. Overall, this look didn't work for Shraddha!
– In Pankaj and Nidhi: At a fashion awards held earlier this year, Ms Kapoor was seen in a mint coloured Pankaj and Nidhi dress. The sheer-fabric closed-neck of that dress looked quite suffocating. And we certainly aren't fans of this look!
– In Donna Karan Atelier: At an awards function, Shraddha was seen in Donna Karan Atelier gown. The silver embellished gown looked too gaudy. We wonder why she chose that gown! *Shudders*
Sonam Kapoor: She's known as the fashionista of B-town, so obviously the bars are set high for this babe. There are a certain expectations from Sonam and we must say that this year, she hasn't been one of the best dressed divas. We've seen her in much better attires, hairdos et al, which is why she's made it to the list of worst dressed. Take a look and you might agree too!
– In Bibhu Mohapatra: At Karan Johar's birthday bash, we were waiting to see Sonam. However, one look and we were disappointed. She was seen in a Bibhu Mohapatra. The dress was too long and the flared look didn't work at all!
– In Ilk: At a bash held earlier this year, Sonam Kapoor had walked in Ilk. And the shoes are enviable but just not with that outfit!
– In Anushka Khanna: At another bash, Sonam was seen in Anushka Khanna gown. The dark maroon lips and the dark gown, it was a tad too much of dark!
Kareena Kapoor Khan: Even since the Khan has been added to her name, looks like Bebo has stopped taking fashion and films seriously. While Kareena still has a great fashion sense while walking in and out of airports, she's given few of the worst appearances at events and awards functions. See for yourself!
– In Satya Paul: Kareena attended a recent launch in Satya Paul saree. She had worn a satin bikini blouse with it. Overall, the blouse killed her appearance, which would have been pretty otherwise!
– In Namrata Joshipura: At an awards function, Kareena was so gaudily dressed that it hurt our eyes. She posed on the red carpet in a shimmery Namrata Joshipura gown. And well, it hurt our eyes so much that all we wanted to do was look away…
– At a studio: Kareena was spotted in baggy pants and a oversized shocking pink top. While we understand the term comfort clothing, we think Kareena went a bit too overboard.
Vidya Balan: The Bobby Jasoos actor makes heads turn at an event. However, she makes them turn in the other direction! Vidya has been pardoned too many times for her fashion blunders and we hope she stops making disastrous appearances soon! Here's the worst of Vidya's appearances!
– At Filmistaan movie screening, Vidya was seen in a blue and white outfit. Well, we understand that she wanted to flaunt that style as a summery look but it looked like the outfit was made out of a bedsheet. Tsk tsk!
– In Anand Kabra: During the promotions of Shaadi Ke Side Effects, Vidya was seen in Anand Kabra dress. That outfit did anything but flatter her curves. Too bad!
– In Payal Singhal: Vidya was also seen in a Payal Singhal outfit. It's good that the lady wants to experiment but it's high time, she gets it right, for once!