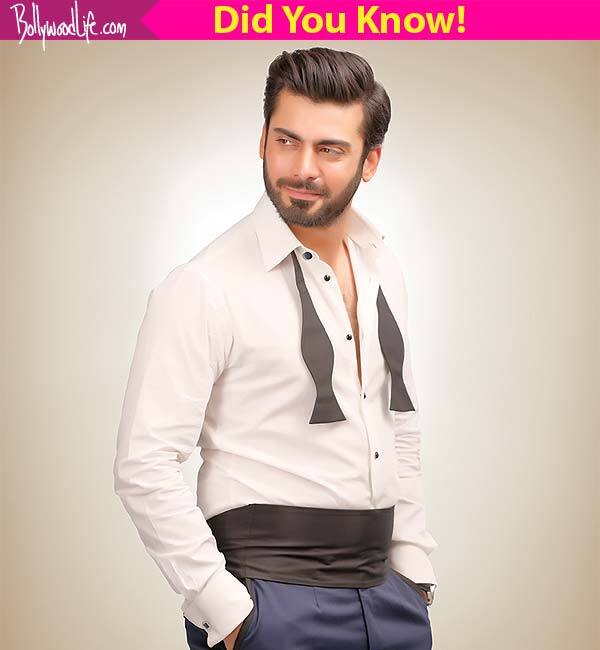 He is as enigmatic as a movie-star should be. Fawad Khan, the Pakistani sensation likes to keep his life simple. He is quite an introvert and social networking is not his cup of tea. Fawad successfully leveraged his success from Zindagi Gulzar Hai and Humsafar to build a career in Bollywood. After making a smashing debut as Vikram Singh Rathore in Khoobsurat, Fawad stunned us with his homosexual character in Kapoor and Sons. He is a huge craze in India and the Middle East. While a bit is known about Fawad, the handsome man prefers some privacy in life. He describes himself as someone with a middle-class background who is still connected with his roots in some way. We know a bit about him, including the fact that he is a diabetic. The actor has not let his condition affect his spirits. Sidharth Malhotra, his Kapoor and Sons co-star, revealed that Fawad can be quite the party animal. He lived around the world before settling down in Lahore, Pakistan at the age of 11. By his own admission, he is the black sheep in his family. Both his sisters are extremely qualified while he was the quintessential rebel. And he is the ultimate romantic. He proposed marriage to his wife at the age of 17. Can you beat that? The actor will be seen as a hot DJ (OMG!) in Karan Johar's Ae Dil Hai Mushkil. His character is under wraps and more than what the promos convey. KJo wants him to be the surprise package. Reportedly, he has a love-making scene with Anushka Sharma too. With the excitement around Fawad's character increasing by the day, Bollywood Life brings to you some trivia about the hottie…
#Fawad Khan is quite obsessed with his pet. He has a black Labrador which he got as a pet for son Ayaan on his birthday. With his second kid coming soon, Fawad will have three little ones at hand.
#By his own admission,
Fawad Khan
is just good for conversations. He says that no one would like to have an affair with him because he is not the 'type'. A very loyal husband, Fawad says he enjoys attention but not too much of attention. Plus, he says no one would tolerate him like Sadaf does. He gets embarrassed with female attention in front of his father in law. So cute!
#The Khoobsurat actor's fashion sense is inspired by his father. He says he likes to keep it classic. He is very inspired by retro Hollywood style icons like Paul Newman. Fawad's favourite accessory is the pocket square. He can fold a pocket square to perfection with some help from online tutorials. His wife Sadaf likes to style him.
#Fawad was a crazy cricket fan. But he stopped watching the game after the epic quarterfinal of the 1996 World Cup where India defeated Pakistan. His father also stopped following the sport. The handsome actor lost interest after being diagnosed with diabetes.
#As a kid, Fawad Khan found the original Aashiqui actress Anu Agarwal a bombshell. He has a preference for dusky women. His wife is also a little dusky. Anyone thinking of pairing Chitrangada Singh and Fawad?
#The actor wasn't the first choice for Khuda Ke Liye. He was chosen after Ali Zafar opted out of the project due to other commitments. Shoaib Mansoor then chose Fawad and the rest is history.
#The actor studied computer engineering from National University of Computer and Emerging Sciences in Lahore but chose acting as he realised he could not be a good engineer. He was down and out in life and thought of changing streams. We are glad! Moreover, his college was far from his wife's campus. So, he took us acting to escape studies and spend maximum time with her. Love was all that matter at that point of time!
#Fawad Khan's grandparents are from India. Yes, they belonged to Uttar Pradesh which at that time was United Provinces. He has always maintained that people are similar across the border. His father's family is from Patiala now in Punjab while his mom's ancestors belonged to Lucknow. He is a Punjabi of Pathan ancestry.
In 2012, he bowed out of his band Entity Paradigm along with drummer Waqar Khan. It was due to his acting career that took off majorly after Humsafar. People loved him as Ashar and Mahira Khan as Kharid.
Ae Dil Hai Mushkil hits theatres on October 28, 2016. Stay tuned to BollywoodLife for more updates…