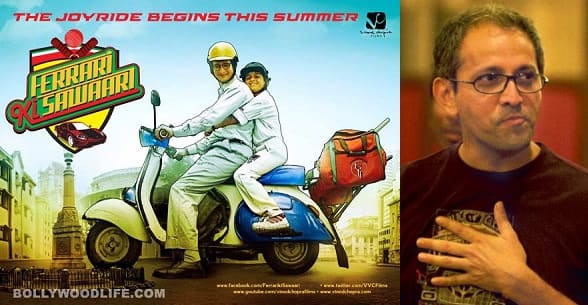 The filmmaker has filed a plea to annul the marriage, stating his wife is mentally unstable
The director of Sharman Joshi starrer Ferrari Ki Sawaari, Rajesh Mapuskar, is going through a turmoil as his personal life seems to be in disarray. The writer of Munnabhai MBBS has filed for annulment of his marriage, stating that his wife Nisha is mentally unstable. The estranged couple has two sons of age 8 and 15.
Speaking to a leading daily, Nisha blamed the filmmaker for tearing the family apart. "I was a divorcee when I met Rajesh. Life was beautiful as long as Rajesh remained a one-woman man. But that is not the case anymore. He wrecked not just my life but our kids' too. They are devastated by the turn of events. I asked Rajesh to end the affair but to no avail. Our fights became so ugly that he even raised his hand on me last year." said Rajesh's wife.
The 3 Idiots writer's wife had even attempted suicide. Nisha said,"He insisted that he was loyal to me, but I smelled something fishy. Things got worse and I tried to commit suicide by consuming pills. He took me to a doctor, a friend of his, who flushed out the pills. Rajesh then promised that he would mend his ways but nothing changed."
Dr Y A Machiswala, who gave psychiatric help to Nisha, mentioned, "How can I give psychiatric treatment to someone for such a long period unless they need it? Nisha was in very bad shape when she was wheeled in. She was suicidal and tried not only to kill herself, but her children as well. Her parents knew what was happening. Her husband Rajesh too was around. I cannot comment on their personal problems."
"He comes and goes as he pleases. The kids are very upset with him. But what can they do? They have clearly told him that they want to live with him only if we live together as a family. They do not want to live with him and another woman," said the enraged wife.
The filmmaker was not available to give any comments on the issue. By what we have heard so far, looks like the estranged couple is headed for a hot court battle, with their marriage at stake!