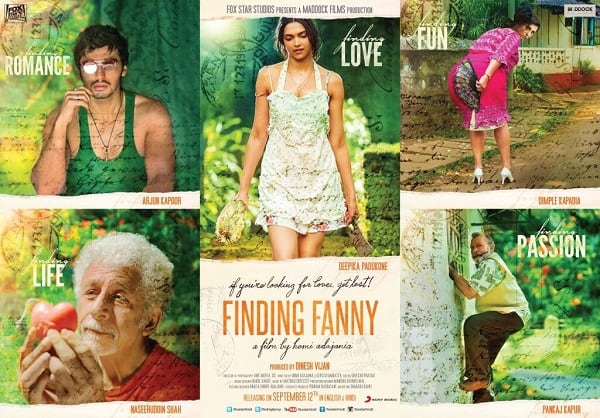 Composers: Mathias Duplessy, Sachin-Jigar and Sachin Gupta
Lyricists: Sachin Gupta, Jigar Saraiya and Dinoo
Singers: Mukhtiyar Ali, Divya Kumar, Sachin-Jigar and Mathias Duplessy
Homi Adajania's next directorial venture Finding Fanny will hit the theaters next month. Starring Deepika Padukone, Arjun Kapoor, Naseeruddin Shah, Dimple Kapadia and Pankaj Kapur in the lead, this film has managed to create great buzz courtesy its interesting trailer which released not too long ago. In fact, Finding Fanny is one film which movie goers shouldn't miss but have the makers incorporated equally interesting music? Let's find out….
Fanny re: Composed by Mathias Duplessy, this quirky song has been sung by Rajasthani singer Mukhtiyar Ali. Fanny re is fun song which is soothing to the ears but at the same time its very has a very old world charm and feel to it making it although more hummable. Its not a typical Goan song yet manages to capture its spirit. The video is equally entertaining. What's makes it a visual delight is that the fact the makers have shot it candidly. No doubt, Fanny re is worth hearing!
Mahi ve: This one is the exact version of Fanny re except that the word Fanny has been replaced by Mahi. Also, the lyrics are bit different and the makers have used more of Punjabi words in Mahi ve. Though its a good hear, wethinks Fanny re is hands down better.
Shake your bootiya: This one is again a fun number and entertaining to the core. Its not a typical Bollywood dance number but its peppy music and hatke lyrics will surely compel you to shake your bootiya. Composed by Sachin-Jigar and Sachin Gupta, Shake your bootiya is sung by Divya Kumar and we must admit he has done a mighty job crooning this energetic number. The song starts off with music but soon you hear Kumar's voice and from there on its an absolute mad and entertaining number till the end. Even the video is hilarious with all the actors shaking their booties. Obviously, we recommend Shake your bootiya to all those who love refreshing music and dancing as well.
Ding Dong: This song has been composed and sung by Mathias Duplessy himself. Its an English number with Guitar in the mainstay. The song starts off with music which is simple yet catchy. You then hear Mathias whose voice is actually dumdaar. But somehow Ding Dong doesn't quite match up to Fanny re and Shake your bootiya. Maybe coz its a bit slow compared to the other two songs. But its not that bad that you can't hear it once.
Verdict: This album is like a breath of fresh air thanks to the composers who haven't stuck to the conventional path and have dared to experiment.
Our pick: Fanny re and Shake your bootiya
Rating:
out of 5
Reviewed by Namrata Thakker
* Poor
** Average
*** Good
**** Very good
***** Excellent