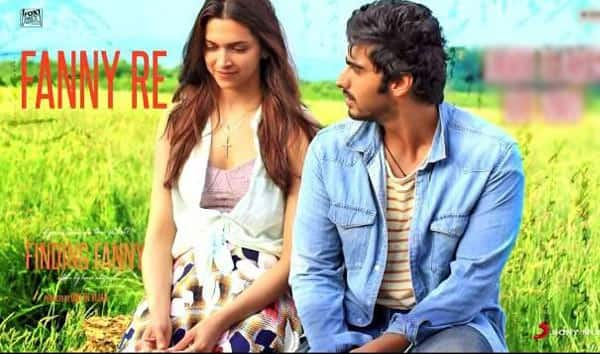 Fanny Re song from Finding Fanny is quirky, crazy and catchy. And we totally love it
The first song from Homi Adajania's much-awaited film, Finding Fanny is out. Titled Fanny Re, this song has completely made us fall in love with the cast of the film, which includes Deepika Padukone, Arjun Kapoor, Dimple Kapadia, Naseeruddin Shah and Pankaj Kapur. We absolutely like this number. Here's why…
A quirky video – The video of Fanny Re is completely quirky. Whoever says otherwise is surely kidding. Deepika, Arjun, Dimple, Pankaj and Naseer are doing some things which we won't get to see them doing in the film or in real life. And that was made clear in the disclaimer right at the beginning of the song.
Dimple's wackiness and free spirited performance – While all of them in the song are seen doing some mad things, it's Dimple who steals the thunder. After watching this video, you indeed won't get over the veteran actress' frenzied prosthetic bum shake move.
Deepika and Arjun's sensuality and bonding – Deepika and Arjun's chemistry in this number is something to watch out for. They look adorable together and we just can't wait to watch them on September 12. That's when this film will finally hit the theatres.
Tune of the song is catchy – While the video is completely brilliant, the tune of the song is amazingly catchy too. We won't be surprised at all if this song tops the chart busters in coming weeks.
Mukhtiyar Ali's voice – Mukhtiyar, who is a folk singer from Bikaner, Rajasthan has done one heck of a job as far as singing is concerned. His voice perfectly syncs with the number, hai na?
So if you haven't seen and heard this song yet, watch it right away and tell us how do you like it.