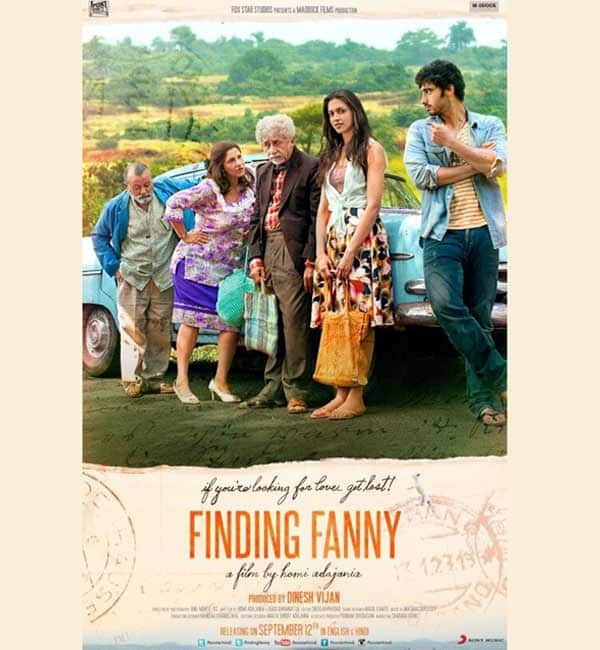 The actors make an appealing pair and are set to present an impressive plot
The wait is over, the trailer of Finding Fanny is here! In picturesque scenes of Goa, Deepika Padukone and Arjun Kapoor come together for a quest to find Fanny. Joined by Dimple Kapadia, Pankaj Kapoor and Naseeruddin Shah, the mission to find Fanny certainly comes across as promising. We give you three reasons why we we give two thumbs up to the trailer:
 #Angie and Savio, here comes a funny duo
Deepika Padukone makes a pretty picture as Angie, in her frilly delicate dresses while Arjun Kapoor keeps it raw and grungy as Savio with his laid back style. The chemistry between the two stars is refreshing as compared to the typical mushy and sappy romances that dominate the silver screen mostly.Deepika comes across as a broken girl, trying to find love with Arjun as her target. He on the other hand appears to be a no-nonsense man, unsure of how things will shape up in the near future.The duo keeps it light, simple and funny which makes their pairing convincing and appealing.
#A funny lot, a whacky plot
The entire storyline of the film manages to keep one's curiosity intact. With Naseeruddin Shah's evident misery ,Dimple Kapadia's sarcastic jibes and Pankaj Kapoor's goofy stints, the journey which the stars are set to embark upon to find Fanny looks dramatic, thrilling and hilarious. To top it all, Arjun Kapoor and Deepika Padukone's parallel love story adds zing to the plot.
# Go Goa gone, the game is on
The backdrop of the film is set in the picturesque bylanes of Goa, which somewhat reminds us of Vishal Bharadwaj's film Saat Khoon Maaf starring Priyanka Chopra. While this film was intense, Finding Fanny certainly appears to be a hilarious plot, involving a bunch set on a mission that they aren't to sure of handling together. With Arjun Kapoor trying to blow fires out, Deepika handling a howling Naseeruddin Shah and Dimpla Kapadia adding to the stress with her tantrums, this film promises to tickle one's funny bone.
So will they succeed in finding Fanny? Find out this September! Till then. watch the trailer and enjoy.