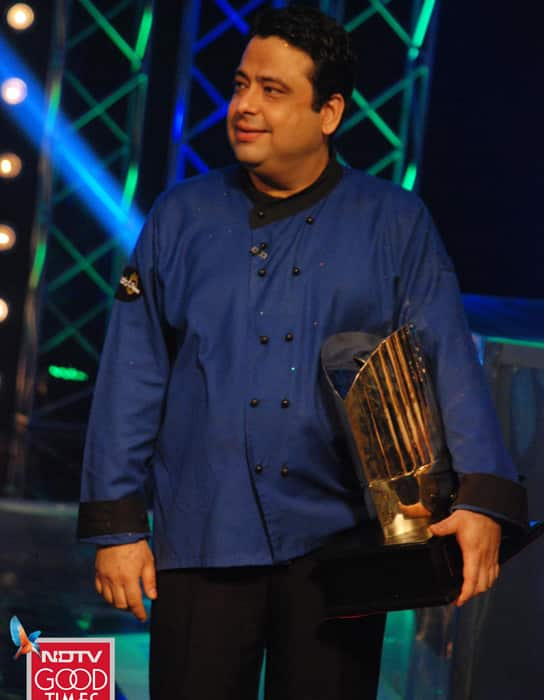 skip advertisement
The chef who won the reality show after facing stiff competition says he will make special vegetarian dishes for the megastar
A huge fan of Bollywood megastar Amitabh Bachchan, chef Manish Mehrotra, winner of NDTV Good Times' reality show Foodistan, wants to cook for the veteran actor. "In my early days as a chef, I was working in a restaurant called Thai Pavilion at Mumbai. That was the only time where I got a chance to cook for Amitabh Bachchan. But since I was a junior chef, I couldn't get a chance to meet him," Mehrotra told IANS. "But yes I cooked for him and it was a great feeling. If I get a chance to make something for him now, I'll make a long list for him so that he can choose what to eat. I know that he is a vegetarian so I would definitely make something vegetarian for him," he added.
The masterchef, who has been using his culinary skills professionally for over 15 years, was announced the winner of Foodistan on the finale episode of the NDTV Good Times show. The reality show saw chefs from various parts of India and Pakistan come together to create unique and delectable dishes. Manish faced Poppy Agha, a Pakistani chef based in Canada, in the final. He said that if there's one learning he has carried back as the winner of Foodistan, it will be the recipes of popular street food in Pakistan.
Mehrotra, who works at Indian Accent restaurant, a fine dining restaurant at The Manor in New Delhi, says the show has given all Indian contestants an insight into the food and cooking style of the neighbouring country and vice versa. "When you meet so many different people from your profession, you get to learn many new things. The eating out culture, especially the street food in Pakistan was unknown to us, the show gave me more knowledge about Pakistani street food," Mehrotra told IANS.
Mehrotra started the journey in the show with 15 other contestants, and learnt how Pakistani food is as diverse as Indian cuisine. "In India and Pakistan, we don't have any standardised dishes. For instance, if a chef is making mutter paneer, the same dish can be made in ten different ways. Same goes in Pakistan, they can make one thing in different ways. It was fun to learn contemporary and modern fusion Indian dishes," added the chef.
Popular for his knack to cook fusion food, Mehrotra believes the TV show has earned him more prominence. "Now the guests come at my restaurant and request the same dishes which I made on the show. We are also planning to hold a 'Foodistan food festival', where I will make the same dishes which I made on the show," he said.
As the winner of the NDTV Good Times show, he has bagged a contract to pen his own cookery book and he will also visit any three cities in the world for a culinary experience. He wants to travel to Australia, America and Northern Europe, he said.