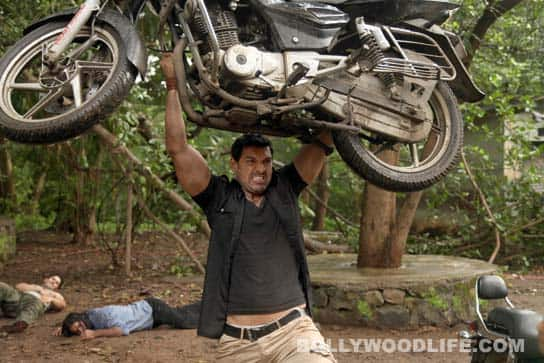 John Abraham's latest film is just another action movie with a trite concept
If you want to enjoy watching the brawny men in the movie, you have to leave your brains behind. John Abraham, who portrays the role of a narcotics cop (Yashwardhan), may have made a concerted effort to throw a heavy bike around and treat it like a piece of toy, but the beefy hunk is unable to make this three-hour-or-so movie work and arouse even the remotest of emotions. Playing the role of an impassive cop, John doesn't do much, apart from being himself and throwing his hulky weight around, pun intended!
We appreciate director Nishikant Kamat's decision to incorporate a fresh face in the movie. The handsome Vidyut Jamwal, who plays Vishnu, is a breath of spicy Bollywoody air. A little voice modulation and we will have a new star. Vidyut comes to Force's rescue and sprinkles freshness on a banal story. Force is not an out-and-out entertainer – it's just an off-shoot of the many hardcore intense action movies Bollywood has produced (Ghajini, Sarfarosh and Baazi to name a few). What stands out in this conventional backdrop is the chemistry between Genelia D'souza and John. The petite heroine and beefy hero combination works for us. Their chemistry is not shown as being extraordinary, rather it's simple and sweet, with Gen prodding John and convincing him to step into the fancy world of romance and start leading a normal life.
After making good movies like Dombivli Fast and Mumbai Meri Jaan, Nishikant Kamat disappoints us with this trite concept. What leaves us crestfallen is the fact that a filmmaker of his calibre has joined the ongoing grind of producing the same boring films.  Watch the movie when you have absolutely nothing else to do, or wait till it's aired on television. All the women out there, the droolworthy men and the cute romance will help you endure this yet another run-of-the-mill cop movie.