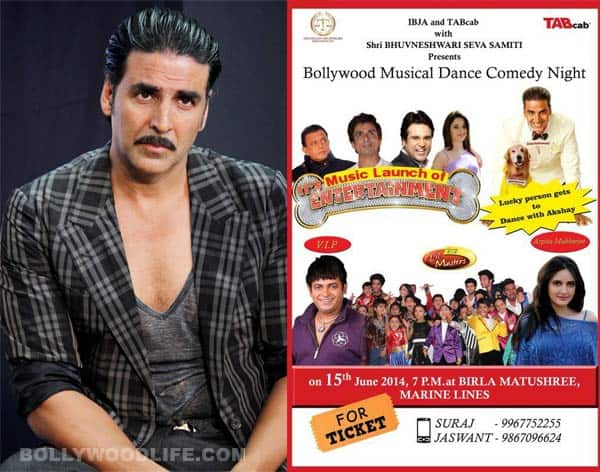 Readers, beware, especially Akki's fans coz some fraudsters are using the star's name
Recently, the first song of Akshay Kumar's It's Entertainment Johnny Johnny released. And it's created quite a buzz. While the good buzz is that it's being loved by youngsters and DJs want to play it, there's a bad goss too. We hear that a bunch of fraudsters have created a scam event, which offers a dance with Akshay Kumar as the finale prize. The event poster states that the music launch will take place on June 15 at Birla Matushree from 7 pm and even has numbers listed below for tickets. No such event is scheduled to take place and anyone buying tickets from these vendors are only gonna get duped.
Producer Ramesh Taurani said, "It is very shameful when these things happen. Instead of being happy with the success and rage of the song, we are trying to nab these fraudsters and save people from being duped. I request the media to help us in our fight against them and spread the word."
So BollywoodLifers, don't get lured by any such posters. And if you wanna know more about the hunkalicious Akshay Kumar and his upcoming film It's Entertainment, stay tuned!