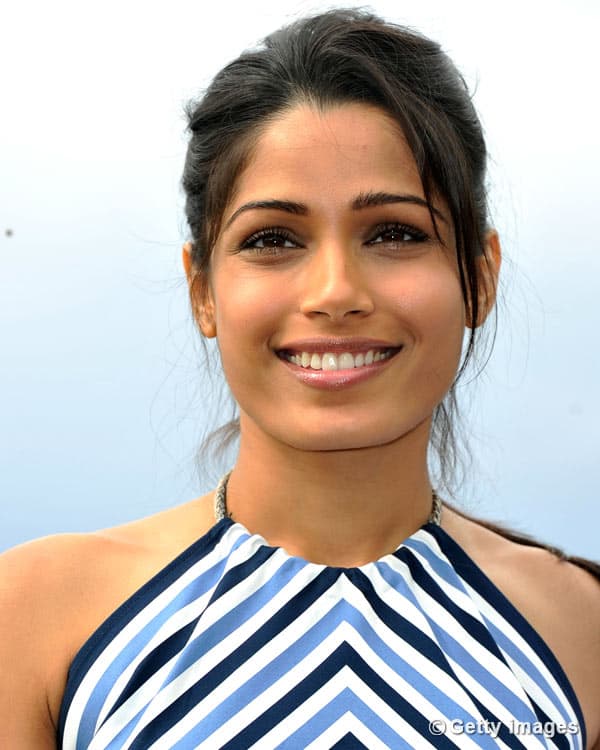 But she doesn't desire for the typical glamorous, singing and dancing kind of roles in masala movies
Freida Pinto, who isn't exactly making as a dazzling impression on the red carpet at the 65th Cannes International Film Festival as we expected, recently signed her eighth film by an international filmmaker – BAFTA Award-winning director Nick Broomsfield's The Catastrophist. And it amplified our belief that the Hindi film industry had lost the attractive Indian actor to its global counterpart.
But we discovered that Freida hasn't really forgotten the film industry that thrives in her own country, India. The Slumdog Millionaire babe, who shifted residence from Mumbai to Los Angeles after Danny Boyle's super-successful film won a string of awards, isn't interested in magnum opus, escapist dramas made by leading filmmakers of Bollywood like Karan Johar or Aditya Chopra or Rajkumar Hirani. She wants something rooted in reality that's made by one of the newer crop of directors and producers in B-town. In an interview Freida said, "I've told Anurag (Kashyap) to write something interesting for me."
Let's hope Anurag, who will soon be in Cannes – the place he thinks is the 'Mecca' for filmmakers – to screen his dacoit drama Gangs Of Wasseypur, exchanges story ideas with the hottie. And along the way fulfills her wish of doing a film in Bollywood!