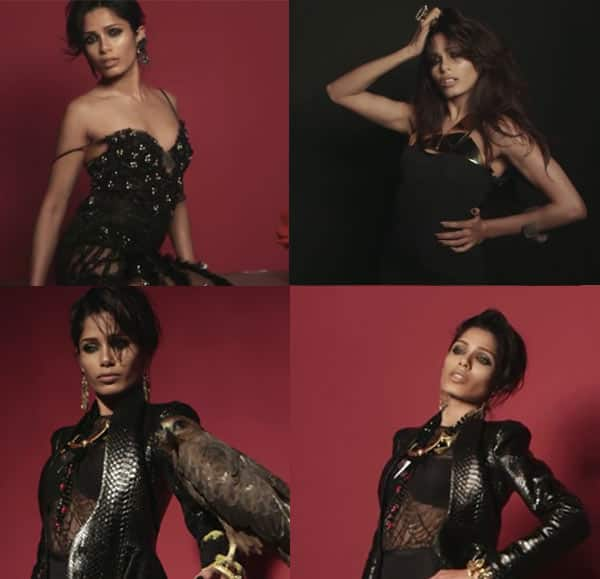 The Slumdog Millionaire babe shot exclusively for the anniversary issue of Vogue magazine. Take a look at the behind-the-scenes action at this fab shoot and tell us: What makes this dusky beauty a fascinating cover girl?
Her bronzed skin-tone has Hollywoodwallahs absolutely captivated. Not to forget her strikingly sharp Indian features that make Freida Pinto a success story that was conveniently dropped into the heart of the glamour world in the US of A through Danny Boyle's Academy Award winning movie Slumdog Millionaire. And now Freida is flourishing at her own pace, making a life of her own that has definitely made our B-town beauties go green with envy.
And here's the 29-year-old actor shooting for the popular glossy Vogue. Clearly, black is the theme of the shoot and Freida strikes some solid poses to match up to the depth of the solid colour she wears throughout the shoot. Her mysterious eyes, ruffled dark-brown hair and the chunky jewellery go well with the theme. To give a feel of menacing charm and bring out the enchanting quality of black in its various forms and shades, Frieda chooses to pose with a falcon and even with a black billi. Interesting, no?
Take a look at this video and tell us if the ethereal beauty hypnotises you with the power of her black magic….
[jwplayer mediaid="274274″]