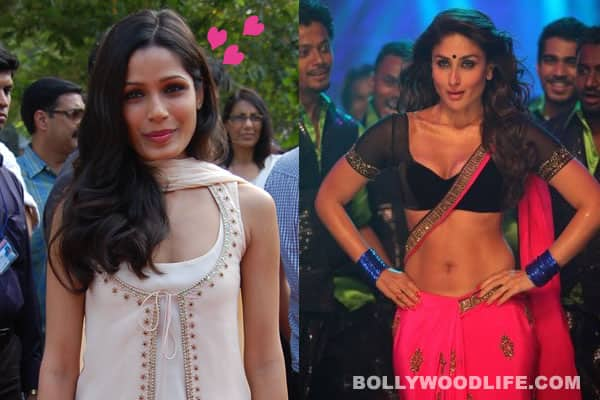 In his latest column, Cineswami tells us why one Indian female actor likes the other. He also rues the poor marketing of Shanghai in the overseas market

Freida Pinto, India's biggest star in terms of global box office collections, is enamoured by Kareena Kapoor, but continues to be saddened by the way her own country treats her. Pinto is happy that Kapoor is commanding fees that are comparable to male stars. "It seems to me, even taking Indian cinema in consideration, I feel like this year we've kind of experienced a shift in humanity. In India, actually, there has been a large disparity in how much a female and male actor gets paid, but this year, one actress changed all that," said the pulchritudinous Pinto.
But India is not all honey and roses for the Pinto sized beauty, especially our media. "When I was promoting this big-budget film, some Indian media reported that I was being a diva on set, and that's the reason I did not want to come to India to promote the film," she said. "I'm like, 'What? I'm in f**king America. That's why I can't promote the film in India.' It's not easy to be in two places at once. It's not true." With language like that, she's not going to endear herself to our morally upright producers in the clean and shining industry that is Bollywood. Wait. Let's not rule out Mahesh Bhatt. The gentleman cast a pornstar, Sunny Leone, so a mealy-mouthed star may not be far behind.
Meanwhile, the debate over the merits of Shanghai continues and the film looks like it will break even. But whatever the merits or demerits of the film, it seems that the producers have little or no faith in their own product and have demonstrated that by ignoring or partially ignoring two of Bollywood's biggest markets overseas. Shanghai opened in just 37 screens in the US and did not release at all in the UK. Looks like yet another case of business lost to piracy due to poor marketing and release strategy or lack thereof.
The debate itself over Shanghai is highly entertaining though with the battleground being Twitter as per normal. While the reviewers (there are no critics in India, only reviewers) have mostly supported the film with one or two notable detractors, and also the indie film community, tweeters feel no such compunctions. Fake News tweets: "Shanghai movie tickets are sold in black. Only difference is you will not have to pay money, they give you money to watch film." Journalist Aseem Chhabra bemoans the tiny US release: "Shanghai had a small opening in the US – so many people told me they want to see it, but it's not running in their cities!"
And though it is our policy not to give too much importance to simian species like Kamaal R Khan, sometimes he ejaculates in a way that cannot be ignored: "I have only one word for Shanghai what a ch***ya film. It's a worst film of decade. This is not excuse but a crime to fool ppl like this." Lest people forget, Kamaal is the most successful of all the Bollywood Khans, having written, produced and acted in that modern masterpiece – Deshdrohi.