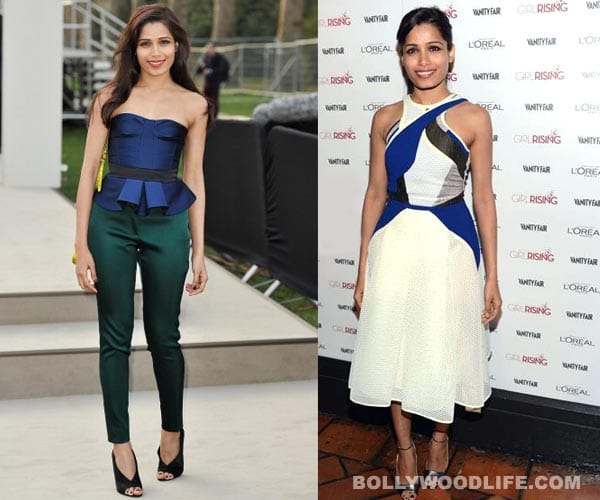 The Slumdog Millionaire babe has been offered a chance to co-host the pre-Oscar party. That means amchi Freida will be all set to appear in a number of gorgeous ensembles. For now, we dissect her most recent style statements  
At the Vanity Fair L'Oréal Paris party, Pinto was spotted wearing an Antonio Berardi mesh detail dress. We like the contrast created between white, blue and black on the frock. We love the funky bodice, the hair tied into a neat chignon. The only disappointment – by the time you are done gazing appreciatively at that stylish ensemble, and proceed to the bottom – is that you can't help but sigh at those ankle strapped silver heels. They ruin the beauty of the classy look.
At the Burberry Fall 2013 presentation, FP was clad in the label from head to toe. While style critics reprimanded her with their harsh remarks – no less dangerous than a sharp scalpel – criticising her ill-fitting pants, we are quite in awe of her ensemble. The blue and green combo is very easy on the eye, and what's all the more appealing is the way she has teamed a strapless peplum top with those leg hugging  trousers. For the record, we have nothing against the fit of the pants. She looks fab….we can go on and on muttering 'fab fab fab' about that Burberry combo. Even that slightly unkempt hair makes her style look very effortless.
Our vote goes to the Burberry look. Yours?