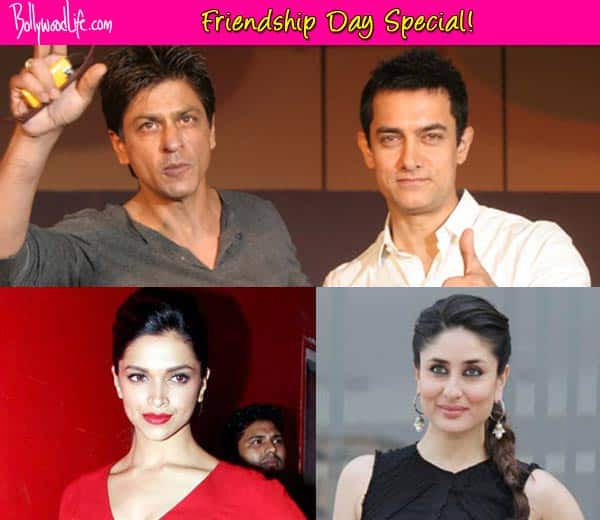 It's time that these B-town celebs end their war
Bollywood is a competitive industry and we often hear stories about friendship going kaput and friends turning foes. Well, today is Friendship Day so we are listing down celebs who wethinks should bury their hatchet…
Aamir Khan – Shah Rukh Khan
A lot has been said about how Salman is SRK's arch rival but that's not exactly the case. Wethinks Mr Perfectionist and Shah Rukh are currently the warring Khans. Well, Kiran Rao's hubby has not only become Karan Johar's good friend but the two are even working together, we hear. At one point, KJo was only close to King Khan but things have changed lately, right? It's pretty obvious all is not well between the Dhoom:3 baddie and the Happy New Year actor. But it would be great if these two superstars patched up. We could then see Aamir and Gauri Khan's hubby together onscreen and that would surely be a cinematic treat, no? If not for the love of god at least for the love of cinema AK and SRK should call it truce wethinks!
Ranbir Kapoor – Salman Khan
When Jr Kapoor entered Bollywood, the Kick actor went all out to promote Rishi Kapoor's ladla beta. But RK's equation with Khan soured the moment he fell for Katrina Kaif. We all know Salman was dating the Bang Bang starlet before Ranbir came into the picture. But that's all in the past and personally RK and SK have moved on. So why not get back to being friends? It will make Katrina's life easier for sure, right peeps?
Kareena Kapoor – Deepika Padukone
Professionally, Bebo and Dippy are doing great and there is absolutely no question of being insecure. Yet the Cocktail babe and Saif Ali Khan's wifey share not-so-friendly vibes. Yes, the two have made snide remarks about each other but that's nothing new. It happens all the time in B-town. Practically, there is nothing wrong between Kareena and Deepika so why haven't these two kissed and made up? No clue but they should ASAP…
Akshay Kumar – Farah Khan
Akki and Farah worked together in Tees Maar Khan and though the film was a dud it didn't affect their relationship. Then Khiladi Kumar teamed up with Farah Khan's hubby Shirish Kunder for Joker. However, the Holiday actor had fallout with Kunder while shooting the film. Akshay stayed away from Joker and it ended up bruising his relationship with Farah as well. We know the Happy New Year director and Akki can't be best friends. But why spoil your friendship over a film like Joker?
Ram Gopal Varma – Karan Johar
The infamous Twitter was between RGV and Dharma productions head honcho is known to all. While these two filmmakers have maintained safe distance from each other ever since wethinks they should patch up and come together for a film. Now that Johar has ventured in acting, it would be a delight to watch him act in a RGV film, hai na Bollywoodlifers? Do we need say anything else? Nah…
Lastly, wethinks Kamaal R Khan should also patch-up with…hmmmm… the whole of Bollywood. Well, We didn't mention him in the list coz he is the biggest superstar in B-town, no?