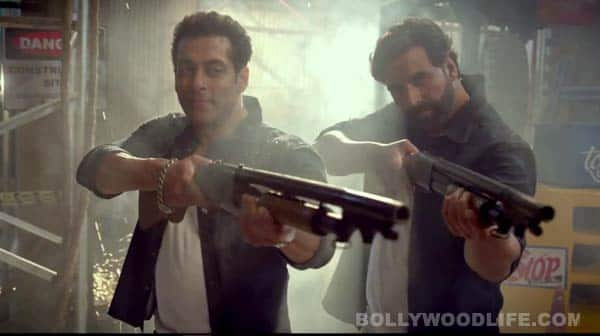 Music: Yo Yo Honey Singh and Raftaar
Lyrics: Yo Yo Honey Singh and Raftaar
Singers: Yo Yo Honey Singh , Raftaar , Rajiv Sundaresan , Arijit Singh , Aman Trikha , Sunaina Sarkar ,Santokh Singh , Prashant Vadhyar and Pawni Pandey
Akshay Kumar's upcoming production venture Fugly starring Mohit Marwah, Vijender Singh, Jimmy Shergill, Kiara Advani and Arfi Lamba looks promising. In fact, few songs from the film which have been released have garnered positive response. Also, there is a special Yo Yo Honey Singh number in the film. Now that automatically raises the expectations, no? So has Akshay's collaboration with Yo Yo Honey Singh and Raftaar paid off? Is the music of Fugly as interesting as the title of the movie? Read on to know….
Fugly fugly kya hai: First up is the title track of the film which has been sung by Yo Yo Honey Singh. And it's no different from any of his earlier songs. Quirky lyrics, pulsating music and Singh's voice sync perfectly and that's one reason why the title track of Akki's upcoming production venture is addictive. However, the music of this catchy number is a bit similar to Honey Singh's Party with the Bhootnath. But that's okay coz the Lungi dance singer still manages to hit the bullseye. His latest offering is worth hearing without a doubt. Not to forget, the video of Fugly fugly kya hai is equally entertaining courtesy two superstars – Salman Khan and Akshay Kumar. Now that's one more reason why you shouldn't miss this one!
Dhup chik: Next on the list is Dhup chik which has been sung, penned and composed by another well known Punjabi rapper Raftaar. This one is a desi party number with upbeat music and interesting lyrics. But the best part about this track is the way it has been sung by Raftaar. The talented singer has crooned the song in Haryanvi dialect and his vocals are bang on. He has even got the accent right which is commendable. Though Dhup chik is quite repetitive, it's funky and will certainly get you grooving no matter where you are. As for the video, it's high on stunts and has been shot creatively.
Banjarey: Honey Singh is back once again with Banjarey and surprisingly this one is unlike any of his songs that we heard so far. It's not a typical Yo Yo Honey Singh number which is high on energy and has funny lyrics. In fact, it's hard to believe that Banjarey has been crooned by Singh. We say so coz the music of this song is subtle and there is no rap element at all. Yes, you heard that right. Well, it's good that Honey Singh is trying to come out of his comfort zone but since we are all accustomed to hearing him rap and go crazy in his songs, this one may take a while before it grows on you.
Dhuaan: Then we have Arijit Singh and Pawni Pandey singing Dhuaan which wethinks every youngster will relate too. The song talks about mid life crisis that every person goes through. It's slow, the lyrics are meaningful and more importantly Arijit Singh is behind the mic. He will mesmerise you with his melodious voice like always. Dhuaan starts off on a slow not but when Singh hits the high pitch, it's a treat to the ears. Pawni has sung her part well too but it's hard to get noticed when you're singing alongside Arijit, hai na?
Good in bed: Next is Prashant Vadhyar, Rajiv Sundaresan and Sunaina Sarkar's Good in bed which is high on energy but somehow it didn't appeal to me. The composers have tried hard to make this one funny and though the music is peppy it just didn't work too well. It's a bit too loud and repetitive as well. So it wouldn't hurt if you skipped this song.
G pe danda: Now this one could have been an absolutely wacky song like the ones we heard in Delhi Belly. But sadly it isn't. Sung by Aman Trikha, Prashant Vadhyarand Pawni Pandey, this track starts off with techno beats which is good but the lyrics aren't at all. It seems the makers have incorporated this one just to add more tadka to their film's music. Well, it would have been so much better if they didn't coz after songs like Fugly fuly kya hai and Dhup chik, G pe danda is a big letdown.
Lovely jind wali: The album closes with the item song Lovely jind wali which has been sung by Santokh Singh, Prashant Vadhyar and Pawni Pandey. Well, this one isn't tadkedaar enough to be called an item song. It's so blah that you may not even hear it till the end. Even I didn't. Guess it's better to stay away from Lovely jind wali.
Verdict: Overall, the music of Fugly is fresh and upbeat but there are few songs you wouldn't want to waste your time litesning to.
Our pick: Fugly fugly kya hai, Dhup chik and Dhuaan.
Rating:
out of 5
Reviewed by Namrata Thakker
* Poor
** Average
*** Good
**** Very good
***** Excellent