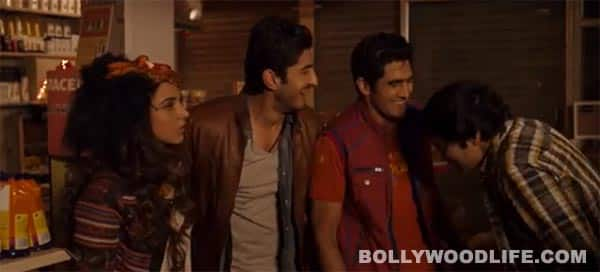 Laden with whacky lyrics and a gamut of actors, this song is a big letdown. Read on to find out why…
Akshay Kumar and Ashvini Yardi have come up with the latest song from their upcoming youth dramedy Fugly. The song titled G Pe Danda, has been composed by Prashant Vadhyar and penned by Sumit Aroraa. Sung by Aman Trikha, Prashant Vadhyar and Pawni Pandey, this song had the potential to be the most wackiest song of the year, with its out of the box lyrics, but sadly it is not.
The composition of the song is a big letdown. The song starts well with techno beats but they are not in any tandem with the lyrics. The song seems to be an extra one added to the album and could have easily been avoided. The song is featured on Mohit Marwah, Vijender Singh, Arfi Lamba, Kiara Advani and Jimmy Shergill.
After listening to some great kickass numbers like Fugly Fugly Kya Hai and Dhup Chik, this song is disappointing, not just in the music department but also in the video department. BollywoodLifers, check out this song out for yourself and let us know your thoughts on the same.