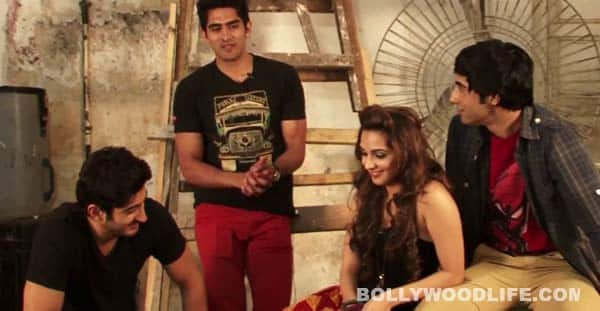 The makers of Fugly have the film's crew performing in swimwear in Delhi's biting cold!
Kabir Sadanand the director of Fugly, wanted to shoot a fun song for his upcoming flick. So he decided to have his crew jump into the water in extreme cold! Confused? They say directors can go to any lengths to get the perfect shot for their films and Kabir lives up to the idea.
The lyrics of the song is catchy and we are humming it already, but we didn't know that the actors of the film had to shoot for this peppy song in Delhi's freezing cold! The song has the Mohit Marwah, Kiara Advani and Arfi Lamba vouching for Vijendra Singh's awesome in-bed skills but in the making we see Mohit explaining that "good in bed" simply means to be good at making the bed!
The choreographer of the film Jayesh Pradhan felt that once the boys were made to perform with the girls the excitement among the former was heightened and they were willing to give shots even after the wrap-up! Well we agree with a chirpy Kiara who is seen claiming that this song will become the new boy anthem, considering it is so naughty!
Watch the making of Good in Bed and tell us whether you like Vijender Singh's mischievous energy or not?