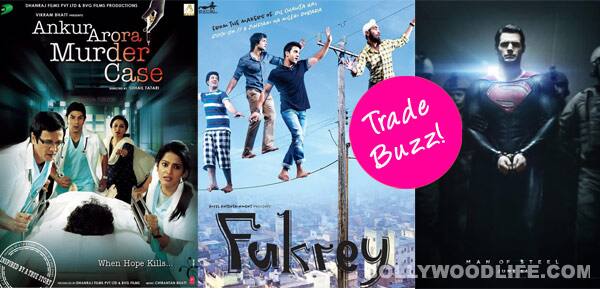 While Farhan Akhtar's tale of friendship hasn't been able to generate enough buzz among the youth, Vikram Bhatt's medical thriller too runs low in its promotions. Trade pundits believe Man Of Steel (Superman) and Yeh Jawaani Hai Deewani can ruin box office prospects of Fukrey and AAMC
With no major star cast in these two relatively small banner films, we see a lull this week for Bollywood. Fukrey can do comparatively well at the box office considering the movie's banner is Farhan Akhtar and Ritesh Sidhwani's Excel Entertainment. Vikram Bhatt's medical thriller Ankur Arora Murder Case is helmed by Suhail Tatari, who directed the issue based Summer 2007 featuring Sikander Kher and Gul Panag, six years ago. Considering both Fukrey and AAMC have been low-key where promotions and marketing is concerned, and there's been absolutely no (read: good) buzz surrounding either, it seems likely that Yeh Jawaani Hai Deewani, still going strong in its second week, and the Hollywood release Man Of Steel can prevent the smaller films finding too much resonance at the box office.
"As per the numerological meaning derived, if director Mrighdeep Singh Lamba has stayed true to the script and maintained the youth flavour without bending down to commercial diktats, the film will be liked by its target audience (read: mainly youth of big cities/towns) who frequent multiplexes," predicts Bhavikk Sangghvi. About Ankur Arora Murder Case he says, "The title adds up to Number 64 – this octave of Number 1 (Sun) is a number of contradictions. It symbolises a person of great promise and possibilities, who is likely to see all taken away from him unless he carefully arranges for the future. It also indicates loss through trust in others, opposition and competition in trade, danger of loss through law and the likelihood of having to begin life's road over and over again," explains Bhavikk.
Rajesh Thadani, Distributor, Multimedia Combines feels, "Fukrey looks good, but AAMC has no buzz. YJHD and Man Of Steel can affect these films badly." Leading exhibitor-distributor Akshaye Rathi opines, "Both Fukrey and AAMC are non starrers, but backed by solid production houses that have delivered one successful film after another in the past. While Fukrey has the potential to tap into the urban youth, AAMC can be decent, as it's an interesting thriller after a long time. While the urban centres, particularly the metros, are poised to be dominated by Superman, the Hindi films can tap niche markets and draw in some moolah. In the meanwhile, I definitely see YJHD continuing its glorious run and inching closer to becoming one of the top grossers ever!"
So BollywoodLifers, which among these films are you looking forward to watch this weekend? Do let us know!