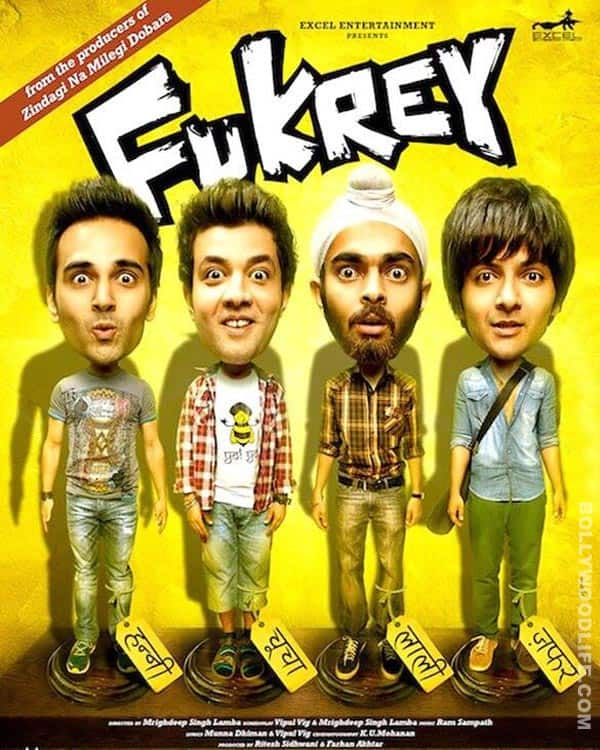 Music composer: Ram Sampath
Singers: Mika Singh, Tarannum Malik, Ram Sampath, Clinton, Cerejo, Keerthi Sagathia, Amjad Bagadwa, Kailash Kher
Fukrey is a coming of age story of a group of young boys and its music intends to bring youthful energy to the fore. Music director Ram Sampath therefore tries to create a young soundtrack, but one steeped in North Indian sounds.
The title track Fukrey is the prime number in this album. It has great energy and the fuk fuk fuk portion is groovy. Singer Amjad Bagadwa is just a little off centre on the sur, but the addictive beats make up for it.
Beda paar starts off in the EDM zone, but immediately turns into a Punjabi dance number. Mika's voice gives the number a been-there-heard-that feeling. A different singer could have made the song sound fresher, as the composition itself is very ordinary. The next song Lag gayi lottery also doesn't sound novel. The stanza uses the famous Neeraj Sridhar pop number Sanu chad ke na and that is the highlight of the track.
Rabba starts slow, with philosophical lyrics, but suddenly turns into superfast track filled with heavy digital beats. Fast-paced and energetic, this one's a catchy number.
Ambarsariya is a romantic song based on a Punjabi folk tune and has an uncanny similarity to Rafta rafta from Namaste London. It's a breezy composition, with the harmonium and guitar romancing each other. It's the best composition in this album.
Karle Jugad seems to be modelled on the lines of the Delhi Belly song Saigal Blues. While Saigal Blues was a funny track in the disguise of a ghazal, Jugad is a casual Hinglish number in the garb of a qawwali. Kailash Kher is powerful.
Ram Sampath makes a good attempt at combining Punjabi sounds, dance beats, desi emotions and Hinglish lyrics. But it seems like he is not in comfortable territory. The soundtrack has the energy, but tries too hard to be cool and youthful. The tracks do not leave a lasting impression.
Rating:
out of 5
Reviewed by Suparna Thombare
* Poor
** Average
*** Good
**** Very good
***** Excellent
Rating:
out of 5
Reviewed by Suparna Thombare
* Poor
** Average
*** Good
**** Very good
***** Excellent