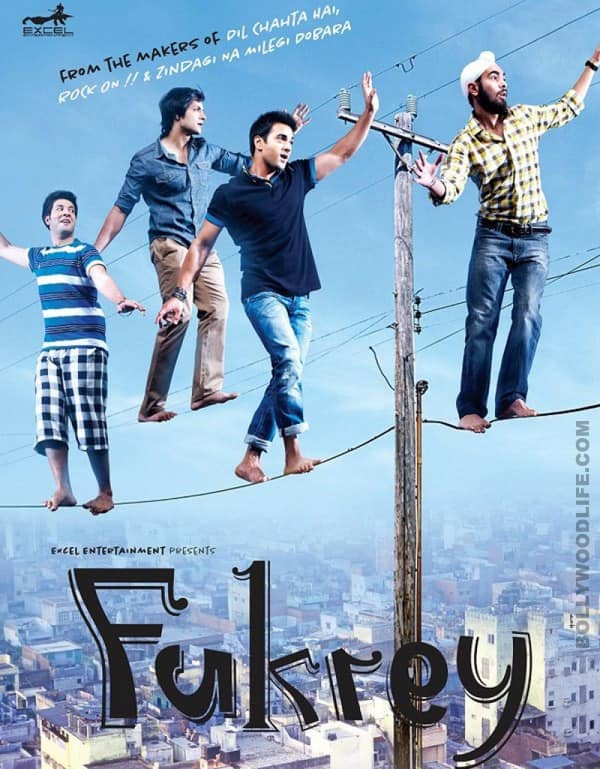 Excel Entertainment's upcoming production is a tale about friendship, life and dreams
Debutante director Mrighdeep Singh Lamba's Fukrey is a story of four friends – Hunny (Pulkit Samrat), Choocha (Varun Sharma), Lali (Manjot Singh) and Zafar (Ali Fazal) – who want to make it big in life but end up getting trapped in a web of dreams.The trailer gains momentum and gives us a fair idea about the concept of the movie as Hunny notices this quirky recurring pattern – whenever his friend Choocha sees a dream, they end up winning a lottery. So these fellows who have time hanging heavily on their hands, think of approaching an investor who will be ready to loosen the purse strings and believe in their plan – now that surely is great way to double the money, but what follows instead is these posse of friends ending up in a major mess.
Richa Chadda enters the frame; she's the brash, foul-mouthed lady don (Bholi Punjaban) who's the financer of the stupid plan, but the scary li'l hooligan that she is, she warns these guys in her own rough style that if they blow her money up, she's obviously going to do something deadly with them. Produced by the makers of Zindagi Na Milegi Dobara, Don and Dil Chahta Hai – Farhan Akhtar and Ritesh Sidhwani – the film's trailer was launched at Jai Hind College's canteen in Churchgate, Mumbai, by its cast and crew. This film talks about male bonding and friendship, much like Farhan's previous ventures. And when asked about it, the producer-singer-actor was quick to reply, "What is wrong with male bonding films anyway, after all you guys never ask people why they keep making love stories or comedies, so what's wrong in this."
Point taken, Farhan. Fukrey means 'nobodies', a slang used in North India. And the movie is about people (read nobodies) who want to make something out of their lives.
[jwplayer mediaid="209855″]