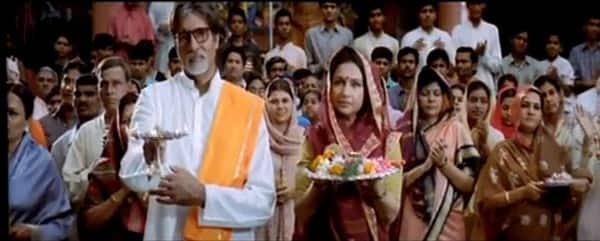 Shree Ganeshay dheemahi is one of the most poignant songs dedicated to Lord Ganesha
If you're morale is down and you can't seem to get through your problems, if you are searching for that one ray hope which will motivate you get up and back fight then listen to Shankar Mahadevan's rendition of Shree Ganeshay dheemahi from Viruddh. It is one of those prayers that will inspire you and make you feel hopeful. There are few songs which we all love to listen and start our day with, right? We love hearing songs which have feel-good factor in them, don't we? Shree Ganeshay dheemahi surely tops the list here. It's meaningful, tranquil, endearing and will transport you to a spiritual world!
So listen to this deeply moving prayer Shree Ganeshay dheemahi (taken from the album Vishwavinayaka) once and you will make it a point to hear it every day!
Gananayaka Ganadaivataya
Ganadaksha Yadhimahi
Guna Shariraya Guna Manditaya
Guneshanay Dhimahi
Gunaditaya Gunadhishaya
Guna Pravishtaya Dhimahai
Ekadantaya Vakratundaya Gauri Tanahaya Yadhi Mahi
Gajeshanaya Bhalchandraya Shree Ganeshaya Dhimahi