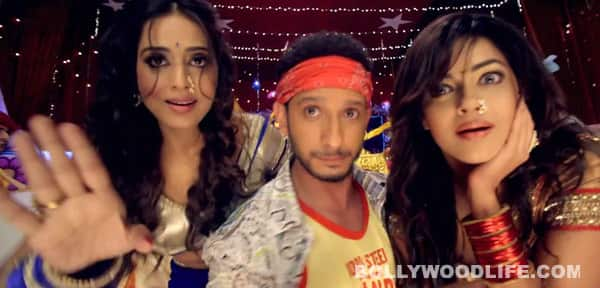 This supposedly funny song is anything but funny, and it seems like a Ganpati visarjan procession on the go
Gang of Ghosts is out with its first song Nach Madhubala, which is supposed to be a funny song describing ghosts. But the supposition is completely wrong as the song is anything but funny! Having been picturised on Sharman Joshi, the makers were solely dependent on his antics to provide the comic element but in reality it is quite the contrary. Mahie Gill and Meera Chopra also do nothing better to tickle that funny bone in you.
The only respite in the song is the lyrics by Satish Kaushik, who is also the director of the film. The lyrics describe aptly what a ghost is capable of and is able to offer some giggles. Sung by Aishwarya Nigam on the composition of Dharam and Sandeep, this song's Ting dang wouldn't stay even in your music players for long. The music seems to be tried and tested many a times before. The contemporary Maharashtrian beats make it sound like a Ganpati visarjan procession.
Produced by Ganesh Jain, Ratan Jain and Satish Kaushik, Gang of Ghosts releases on March 21 and we hope it would be as funny as the original Bengali film Bhooter Bhobhisyot. In spite of Sharman Joshi's failed antics in this song, we hope he does not let us down with his impeccable comic timing in the film. Hai na peeps?
ALSO SEE: Gang of Ghosts first look: Catch Sharman Joshi, Mahie Gill and Anupam Kher in Bollywood's first ghost comedy!