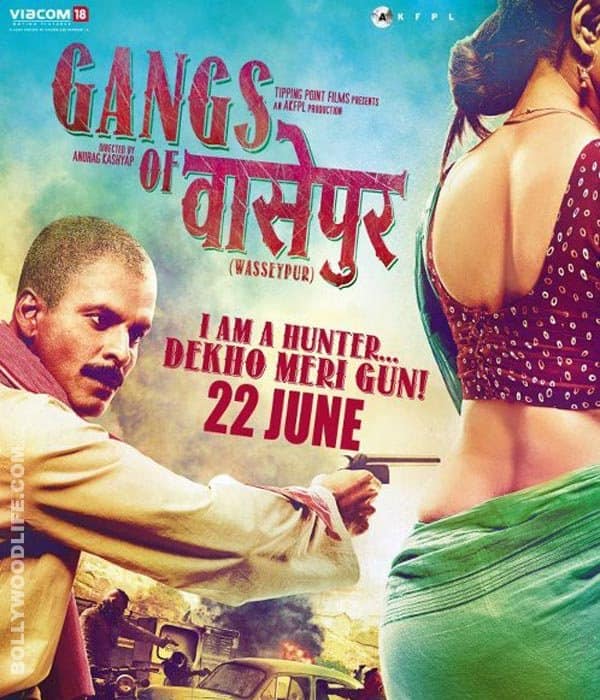 Click for pictures, news, gossip, interviews, videos, reviews, features and synopsis
The first part of Anurag Kashyap's much-talked about film Gangs of Wasseypur releases on June 22 in India. Here's all you need to know about the film.
STORY
Towards the end of colonial India, Shahid Khan loots the British trains, impersonating the legendary Sultana Daku. Now outcast, Shahid becomes a worker at Ramadhir Singh's colliery, only to spur a revenge battle that passes on to generations. At the turn of the decade, Shahid's son, the philandering Sardar Khan vows to get his father's honour back, becoming the most feared man of Wasseypur. Staying true to its real life influences, the film explores this revenge saga through the socio-political dynamic in erstwhile Bihar (north India), in the coal and scrap trade mafia of Wasseypur, through the imprudence of a place obsessed with mainstream Bollywood cinema.
REVIEWS
GANGS OF WASSEYPUR movie review: Don't miss this entertaining commotion!
GANGS OF WASSEYPUR quick movie review: Entertaining!
GANGS OF WASSEYPUR music review: Rooted, quirky and brilliant!
INTERVIEWS
Anurag Kashyap: A film like 'Gangs of Wasseypur' is new in Indian cinema
Nawazuddin Siddiqui: Why does Prateik charge Rs 1 crore for a film?
Anurag Kashyap: I want to work with Shahrukh and Hrithik
Married life is not happily ever after for Mrs Anurag Kashyap
PICTURES
Huma Qureshi makes a pretty appearance!
Anurag Kashyap launched 'Gangs Of Wasseypur' music on the streets of Mumbai
Ranbir Kapoor, Arjun Kapoor, Prateik, Tabu, Naseeruddin Shah at the special screening of 'Gangs of Wasseypur'
Ranveer Singh bonds with Anurag Kashyap!
Sonam Kapoor, Ranveer Singh, Punit Malhotra attend the special screening of 'Gangs of Wasseypur'
'Gangs of Wasseypur' posters: Rustic and hard-hitting
Manoj Bajpayee, Anurag Kashyap, Nawazuddin Siddiqui at Cannes Film Festival 2012
VIDEOS
GANGS OF WASSEYPUR song: Womaniya
GANGS OF WASSEYPUR song: Hunter
GANGS OF WASSEYPUR trailer: Manoj Bajpayee is back!
NEWS, GOSSIP & FEATURES

London Indian Film Festival 2012: 'Gang of Wasseypur' to open the festival
Anurag Kashyap unaware of John Doe order for his film 'Gangs of Wasseypur'
GANGS OF WASSEYPUR's 'Womaniya': Bite him!
Why did Anurag Kashyap pretend to be Abhinav Kashyap?
No trouble brewing between Anurag Kashyap and Abhinav Kashyap
Anurag Kashyap wasn't the first choice to direct 'Gangs Of Wasseypur'
'Gattu', 'Saving Face', 'Shala' win at New York Indian Film Festival
Cannes 2012 verdict: Gangs of Wasseypur, Peddlers, Miss Lovely
Kalki Koechlin opts for a half-sari at the 65th Cannes Film Festival
'Gangs of Wasseypur' receives a standing ovation at Cannes!
Will Anurag Kashyap's 'Gangs Of Wasseypur' be banned?
Anurag Kashyap's 'Gangs Of Wasseypur' is making waves at Cannes
Huma Qureshi of 'Gangs of Wasseypur' signs an action film
Anurag Kashyap: I don't need a star
65th Cannes Film Festival begins today
Anurag Kashyap pays Rs 15 crore to the cast of 'Gangs of Wasseypur'