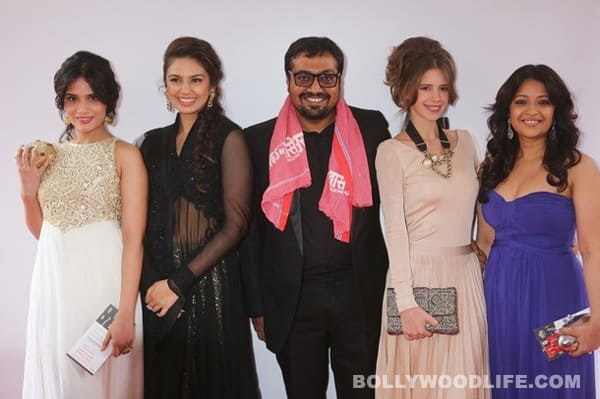 Anurag Kashyap's movie was the first mainstream Bollywood movie selected for the Director's Fortnight
Gangs of Wasseypur premiered at the 65th Cannes Film Festival on the evening of May 22, 2012 as the most highly anticipated Indian film. Talking about Indian movies at the coveted film festival director Anurag Kashyap said that usually these are "sidelined as very boring and art house, and they don't often get released". But that definitely wasn't the case with GOW.
The cast and crew of the movie made a proud appearance in their signature red gamchas as they took their seats at the screening that was packed to the hall's full capacity of 800. But it wasn't only those related to the movie who wore the scarves. The gamchas were made available to the audience, most of whom who chose to wear it to show their support.
Making their presence felt at the event were actors Huma Quereshi, Reema Sen, Richa Chadda, Nawazuddin Siddiqui and Manoj Bajpayee, along with director Anurag Kashyap (with wife Kalki Koechlin, who managed to get time off from a shoot) and Bollywood's only female music director, Sneha Khanwalkar. What's more, according to the buzz Richa, who had injured her foot while shooting for Tamanchey, decided to attend the festival – and in heels! – in spite of the pain and the cast on her leg. And we're sure she doesn't regret it all! Right, Richa?
And now, thanks to the movie's success at Cannes, we wait with bated breath for it to release in India. Will it be the next milestone of Indian cinema? What do you think, Bollywoodlifers?