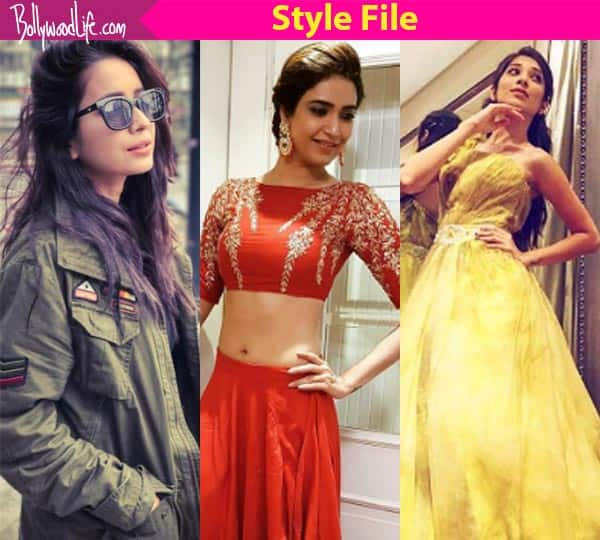 The spring season is here. It is the time of the year when the skies are a clear skies and flowers create a riot of colours in many parts of the world. Pantone, the world authority on colours has short-listed its selected colours for spring 2017 after seeing trends on the New York fashion week. The best part is most of these hues look fabulous on the Indian skin tone. Bollywood Life decided to check out a few TV beauties flaunting these colours to give you some inspiration for the coming few weeks…It is all about colours, so go all out and make it a hue-ge fashionable affair.
Colour: Primrose Yellow 
Actress: Vrushika Mehta
Primrose Yellow is a bright sunny colour that just lifts up the mood of a room or a person. However, it is a strong shade and should be wore in a minimalist manner. Vrushika Mehta is seen here in a primrose yellow gown with a cinched belt. With natural makeup and no accessories, she lets the colour do all the talking.
Colour: Pale Dogwood
Actress: Shibani Dandekar and Surbhi Jyoti
Okay…we know the name of the colour might not register that fast. Putting it simply, it is a shade close to blush pink. You can say it is a slightly darker shade of soft pink. The colour is dreamy, romantic and sensual. It is a hue that can be accessorized with bling gold, silver or diamonds. IPL host Shibani Dandekar has only chosen sky high gladiators here with that pink dress and is totally killing it. Surbhi Jyoti is more festive in the elaborate lehenga that brings out the fairy-tale vibe of the colour to the hilt. 
Colour: Hazelnut
Actress: Nora Fatehi
People (read guys) might not be able to differentiate between pale dogwood and hazelnut but girls will know that the latter is more veering towards a shade of light brown. Nora Fatehi is seen her in a fusion outfit that has a floor length kurta in a shade close to hazelnut. With only a statement watch and light berry lips, Nora lets the jacket steal the show.
Colour: Flame
Actress: Karishma Tanna
We love our reds and flame is one colour that gels nicely with the Indian skin tone. A flame coloured bag or a top can liven up a casual look but Karishma Tanna rocks a lehenga with gold work done on it. The shade looks regal, elegant and classy at the same time. Sport flame with statement accessories to bring the colour to the fore.
Colour: Pink Yarrow
Actress: Gauahar Khan
One of the most beautiful and stylish actresses to grace films and TV, Gauahar Khan can carry off any outfit and colour with panache. She is a stunner and extremely photogenic. Pink Yarrow belongs to the hot pink, fuchsia and magenta family and is seen on spring flowers like pansies, fuchsias and peonies. Gauahar looks elegant in this bright pink jumpsuit finished off with a watch and slick hair. (Also Read: Kushal Tandon and Gauhar Khan indulge in some cute convo on Twitter)
Colour: Greenery
Actress: Helly Shah
Spring is not just about the flowers even the grass looks fresh in gardens all around. Greenery is the colour of the year by Pantone. It signifies new beginnings. TV's fresh-faced actress Helly Shah does justice to this dress with white motifs. Zero makeup lets the colour stand out but we would have liked her hair tied up in a ponytail. Gold chandbalis make it a more Indian look, which is perfect for a sangeet or mehendi party. (Also Read: Helly Shah celebrates her birthday with Bollywood Life – watch exclusive video!)
Colour: Island Paradise
Actress: Surbhi Jyoti
This is a shade that will instantly remind you of an exotic beach holiday. Actress Surbhi Jyoti wears a colour close to that shade in a dress that also has a bit of pink. We love Surbhi's clothes and think her closet is totally raid-worthy. The lovely actresses channelises cute and breezy with this dress.
A post shared by Surbhi Jyoti (@surbhijyoti) on
Colour: Lapis Blue
Actress: Rashami Desai
Between the gladiators, oxblood lips, choker and sling bag, the simple dress gets lost on Rashami Desai. The colour Lapis Blue is predicted to be a hit this season and is one that will stand you in good stead for every kind of event.
Colour: Kale
Actress: Asha Negi
We know that Kale is a super food that has wonderful benefits for the body but the colour has also found itself on the Pantone chart. It is a very Indian colour found in many sarees especially silks. It is close to the colour military. Asha Negi rocks the jacket here.
Which colour did you like the best? So girls, rush and get your fave shade in your wardrobe. Stay tuned to Bollywood Life for more scoop and updates…