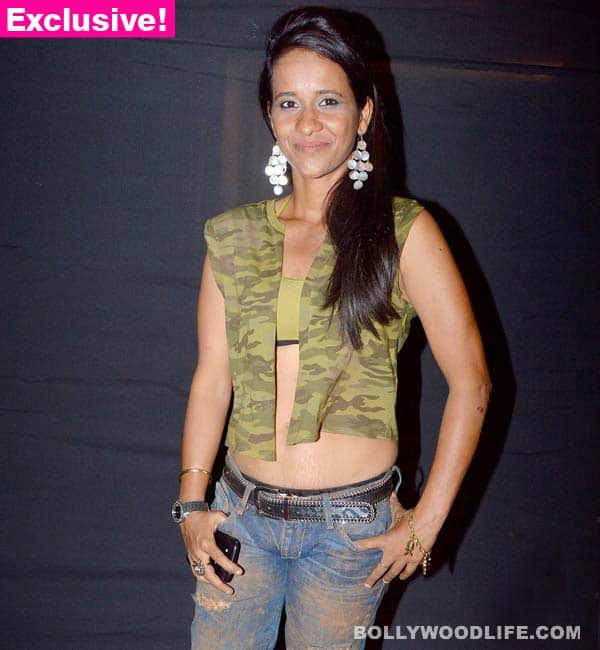 The stuntwoman recently got evicted from the stunt based reality show, Khatron Ke Khiladi-Darr Ka Blockbuster. In a ligtht hearted chat with her she explained as to what went through her mind while she was on the adrenaline pumping fear thumping show
Geeta Tandon bid adieu to Khatron Ke Khiladi (KKK) along with Gauahar Khan. She was, although sad, but was really high on energy considering the new found fame. Also she has been loaded with a deluge of work and she wants to keep doing the good work for her family and fans. Excerpts from the chat…
How was your experience in Khatron Ke Khiladi?
It was a great experience in KKK. I had hardly ever been out of India and this show was a great opportunity for me to see such a beautiful country. Such locations I have only seen in TV and films, but now I could see them in real. Also I have been watching the show from the very first season and I always admired the contestants and kept thinking as to whether I too would be able to do those stunts or not. So when the makers of KKK approached me, it was like a childhood dream coming true. The show had given me more than I could have ever imagined.
You have been a stunt woman all your life, and this show was also about stunts. So did you ever feel that you had a better advantage than the others while performing the tasks?
Actually No and Yes. Initially I felt like this is my domain and I will be able to perform the tasks easily, whereas when I went there to perform, then I realised that it is not that easy to perform these stunts. Also, my previous experience in films was of very little help as in movies you can take a shot numerous times to get it right, but here I had only one take to perform the stunt. Thus it was more difficult.
The stunt in which you got eliminated, do you think that was the toughest stunt you had to perform on the show?
Not at all. The stunt was easy but it was my mismanagement and miscalculation that I couldn't do well in the task. There is also a huge role of luck in these stunts. You maybe  the best of performers, but if on that day your luck is not with you, you will not perform well.
Whom do you consider as the weakest performer in the show?
There is no weak performer. Everyone is strong in their own respects. Plus however weak you are if your luck is on your side, you will perform well. Performance does matter a lot but luck has an even bigger role to play in the stunts.
So that means there were no strong contenders whom you were scared of?
As I said everyone is a strong contender and I was equally scared of everyone.
Who do you think should win the fifth edition of KKK?
I think Gurmeet Choudhary and Salman Yusuff Khan have a better chance of winning than the others as they have been constantly performing well.
So once you got eliminated, did you stay back and roam around South Africa?
I really wanted to stay back and enjoy there, but as soon as I got eliminated I had to rush back as I had some professional commitments. But KKK has given me a lot of exposure and because of the show I am getting a deluge of work now. I feel great as I had become a stunt woman to support my family and now with the sudden gain of fame, work assignments have trebled and it feels great.
Were your family and friends relived when you came back home safely?
That is so true. They all were so worried about me and once I returned they all gave a sigh of relief. But now when the show started airing they all became more worried asking that how did I even perform such stunts. The neighbourhood ladies came up and started crying thinking that I might have had to bear so much pain and stress while doing the stunts. I had to console them saying that I do these type of stunts everyday.
What other future projects are we going to see you?
I have a lot of TV projects and some movie assignments, but nothing is fix as of now. As and when anything gets confirmed I will keep my fans updated.