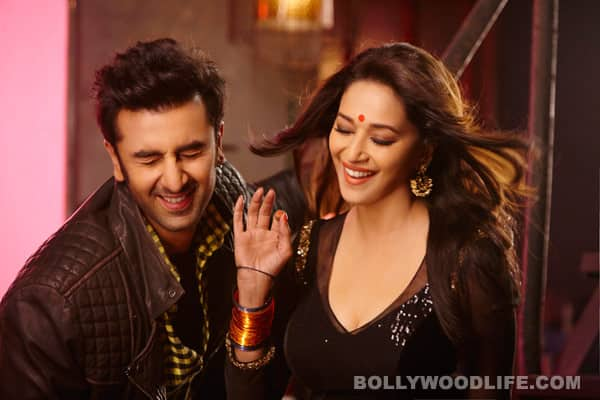 The making shows how Mads lifted the performances of just about every actor in the song and how ace filmmakers like Anurag Kashyap, Karan Johar and Imtiaz Ali dropped in on the sets just to see the diva shake a leg!
Most of the young actors of the current generation will tell you that the biggest regret of their career, as far as their pairing with the heroines are concerned, is that they didn't get to work with Madhuri Dixit. Ranbir Kapoor is probably one of the few actors who won't have to live with that, all thanks to Ayan Mukerji's romcom, Yeh Jawaani Hai Deewani, and the song Ghagra!
In the video of the making of the song, you can see the director saying just how fortunate he is to be working with a legend such as Mads. Ranbir on the other hand says that the repertoire of expressions that Madhuri had during the song literally kept him on his toes, since he had to match up to the dancing queen in terms of attitude! Also, very cheekily he confesses that the fact he got to flirt with her and then kiss her on the cheek…what more could one ask for!
Also seen are directors Anurag Kashyap, Karan Johar and Imtiaz Ali making a beeline for the sets, just to see the legend known as Madhuri Dixit in action! And Ms Nene on her part is just glad to be around a 'chilled-out' gang of professionals, doing what she does best – dance!
You check out the super awesome video of the making of Ghagra!