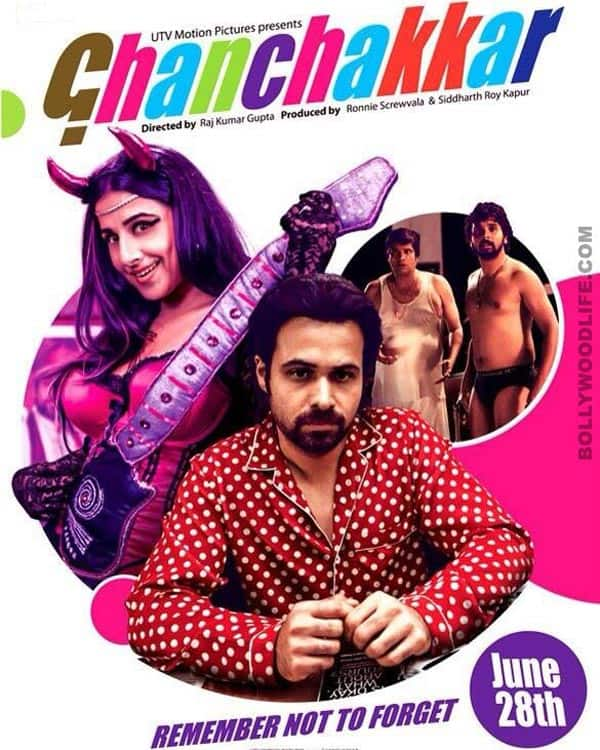 Music: Amit Trivedi
Lyrics: Amitabh Bhattacharya
Singers: Amit Trivedi, Divya Kumar, Altaf Raja, Richa Sharma
The Vidya Balan-Emraan Hashmi starrer Ghanchakkar has only four tracks and a remix version. The music, like the film promises to be, is quirky and entertaining. First up is Richa Sharma's Lazy lad saiiyan – a song that many wives will want to dedicate to their husbands! A catchy whistle accompanied by a guitar lead you into this fun number. The Hindi-Punjabi lyrics and the guitar and dhol go well together.
Allah meherban, sung by Divya Kumar is a strange mix of a qawwali and what sounds like a Konkani folk song, and creates a unique effect.
Ghanchakkar babu is a catchy song and hooks you instantly with its piano and drum beats. Amitabh's lyrics don't really make sense, but flow perfectly well in this funny track – Hua bheja tal ke sabudana re, lutiya-khatiya-lungi, continuous thokampatti, shakkar badle gud le jana re etc. This one's a quirky and hummable ditty.
Altaf Raja comes back to singing with Jholu Ram and if you are expecting a typical Altaf song, you will be disappointed. He has sung this one well and more, but a Tum to thehre pardesi kinda tadka would have created a more exciting number. Also, this disco dandiya-style composition is not on par with the other songs in this album.
There is also the remix version of Ghanchakkar babu by Tanuj Tikku and Aftab Khan. With loads of sounds and heavy beats, it's a super number for the dance floor. Expect the original version playing in cars and radios, while the remix one is sure to feature on a DJ's playlist.
All in all, Ghanchakkar is a well-made, quirky and full on entertaining album. Enjoy!
Rating:
out of 5
Reviewed by Suparna Thombare
* Poor
** Average
*** Good
**** Very good
***** Excellent