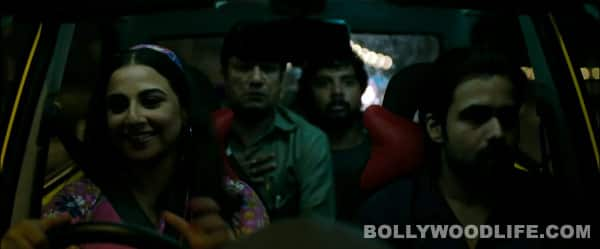 And we finally know that this movie is not (just) about Mr and Mrs Athray. Then what is it about? Read on to find out
Stills and posters of Ghanchakkar that made their way into our lives suggested a sweet slice of married life between a Maharashtrian man called Sanjay Athray (Emraan Hashmi) and a Punjabi kudi named Neetu Bhatia (Vidya Balan). It looked like the story will deal with the challenges of their shaadi – remember their just married snapshot? But how wrong were we!
A look at the trailer reveals that Ghanchakkar circles around not a quirky marriage but a bag of money. Gasp! The conflict arises when Mr Ghanchakkar, a forgetful man, forgets the location of the bag. Now we have people – Vidya Balan, Namit Das (in chaddi) and Rajesh Sharma – launching a treasure hunt for the lost moolah.
But has Mr Ghanchakkar really forgotten the whereabouts of that bag or is he faking it? Watch this trailer and tell us what you think. Pronto!