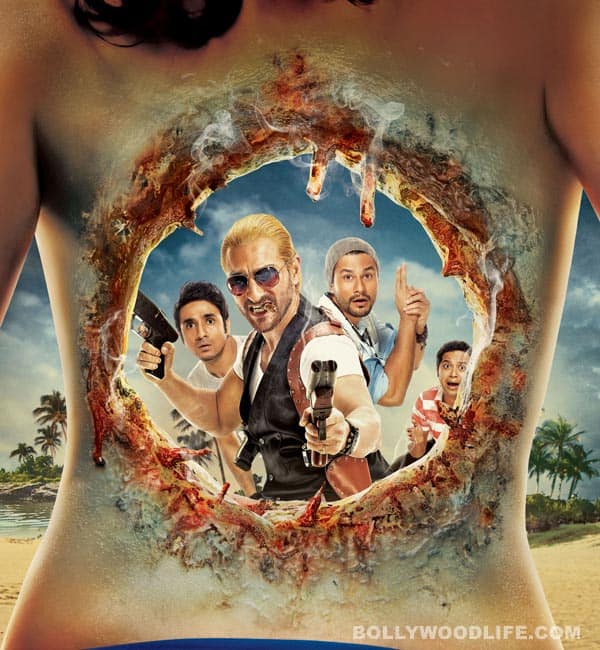 Spirited performances, quirky one-liners and knockout punches from the lead trio of Kunal Khemu, Vir Das and Anand Tiwari, coupled with Saif Ali Khan's expletives and zombie-killing Mafioso act make this zom-com high on entertainment and almost always fun!
For an audience (read masses) that has majorly grown up on a robust diet of filmi stories of ghosts, possessed bodies, revengeful souls, voodoo dolls, black magic et al – even paranormal elements and spiteful witches in recent times – director Raj Nidimoru and Krishna DK's Go Goa Gone is a refreshingly stimulating concept that has been tried and tested successfully in Hollywood, but is absolutely new on the Bollywood map.
Welcome to the zombie folklore that has a desi tadka to it with never ending witty one-liners that will keep you entertained and hooked throughout. Made strictly for city folks, this zom-com is both hilarious and spooky in unequal proportion, but nevertheless engaging and delightful. Those who have seen at least one zombie movie before venturing into this relatively unknown terrain will know where the director duo has come from to craft a production of this nature. The rest might raise their eyebrows at this curious experiment. Far from your regular angrezi mindless zombie movies, GGG is humorous, cocky and controlled.
Luv, Hardik and Bunny played by Kunal Khemu, Vir Das and Anand Tiwari are your regular city Joes. While Luv is dumped by his ladylove, Hardik is jobless because of his overt sexual drive. Bunny is a perpetually hard-working fun-deprived moron. The frustrated trio decides to ditch the urban jungle and the monotonous lifestyle for a clandestine wild rave party on a secret island in Goa at the insistence of a curvy babe (Puja Gupta). The four soon find themselves in big trouble as the fun-fare goes horribly wrong, thanks to a never-tried-before, newly imported super drug served in the party that sends the revelers into an overdrive, ultimately turning them into flesh-eating, brain-dead zombies. Trapped on the party island with death looming large, the four friends find their ultimate saviour in the Russian mafia Boris (Saif Ali Khan) who can tot guns and bring down these blood-thirsty creatures with his sharp shooting skills.
For a plot as simple as that, Go Goa Gone's narrative can sound ridiculously flat, but the zany energy of the film's starcast, its intelligent writing, smart direction and taut editing – not to forget its apt background score and lively music by composers Sachin Jigar – make the movie a wacky roller coaster ride with never ending craziness.
Performance wise, Kunal Khemu steals the show with his range of expressions and solid punches, Anand Tiwari is highly impressive with his deadpan expression and Vir Das does equally well except for his overtly polished accent that gets on your nerves at times. Saif Ali Khan has played his part with relish and his swaggering screen presence stays with you long after you have left the theatres. Newbie Puja Gupta offers the much needed eye candy for a movie largely revolving around zombies and a bunch of guys.
All in all, watch Go Goa Gone for the innocent banters, unexpected histrionics and total madness leading to a wacky ride that you would least anticipate.
Rating:
out of 5
Reviewed by Prathamesh Jadhav
* Poor
** Average
*** Good
**** Very good
***** Excellent