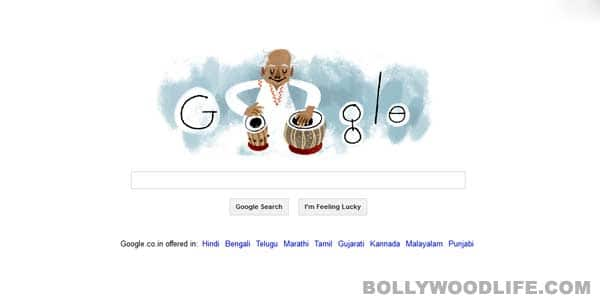 The Indian tabla maestro makes his mighty presence felt on Google doodle on the eve of his 95th birth anniversary!
We were pleasantly surprised to see the caricature of the maestro Ustad Alla Rakha on Google! Those who googled today will know what are we talking about. The search engine giant celebrated the 95th birth anniversary of the legend with a doodle dedicated to him.
Born on April 29, 1919 in Phagwal, Jammu as Allarakha Qureshi Khansaheb, the master was a frequent accompanist of Ravi Shankar. He became fascinated with the sound and rhythm of the tabla at the tender age of 12, while staying with his uncle in Gurdaspur. His desire to learn the art of playing the table made him run away from home. Later he became a disciple of Mian Kader Baksh of the Punjab gharana who took him under his wing and refined him as an artist.
Alla Rakha began his career as an accompanist in Lahore and then as an All India Radio staffer in Bombay in 1940, playing the station's first ever tabla solo. He also composed music for a couple of Hindi films from 1943-48. Honoured with the Padma Shri in 1977 and the Sangeet Natak Akademi Award in 1982 Ustad Alla Rakha was a gigantic figure in the world of Indian music. His three sons – Zakir Hussain, Fazal Qureshi, and Taufiq Qureshi – are also globally renowned tabla players, composers and percussionists!