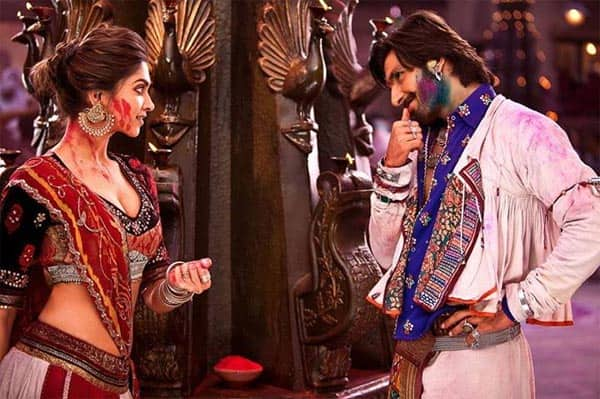 Sanjay Leela Bhansali has stuck to the title of his film….literally. Like most of his movies, this one too has romance, drama, songs and larger-than life sets, but there is violence – which we usually don't associate Bhansali with. And while Goliyon Ki Rasleela Ram-Leela is an adaptation of Shakespeare's Romeo and Juliet, the story is rather like the Aamir-Juhi starrer Qayamat Se Qayamat Tak…
After all the hype and buzz around Deepika Padukone and Ranveer Singh's sizzling chemistry, everybody – including us – was eager to see Sanjay Leela Bhansali's Goliyon Ki Rasleela Ram-Leela. There is no doubt about the fact that Bhansali is one of the finest filmmakers in Bollywood and he proves it yet again. With his new offering the talented director takes you to another world, where goli (bullet), ghoda (gun) and chaku (knife) are easier to find than anything else. Real-life locations, captivating music, great performances not just by the two lead actors but the supporting cast – that makes it worth watching. And when it's a Sanjay Leela Bhansali film, you expect it be visually stunning, which his film is from the word 'go'. But the problem with this one is the story – it's nothing that we haven't seen before. However, Dippy and Ranveer carry it all off beautifully with their acting.
Plot
Ram (Ranveer ) and Leela (Deepika) aren't supposed to fall in love coz they are from two different communities who have been fighting with each other for 500 years. But they do… at first sight. We can't blame Mr Singh; Ms Padukone looks absolutely gorgeous throughout in her desi avatar. The lovers are left with no option but to elope. However, their families manage to find them and Ram and his Leela are forcefully taken back to their villages. Things change drastically after Ram replaces his father and becomes the don of the Rajhadi community. In between, there is lot of fighting, killing and politics. You hear a gunshot in every scene, expect for when Ram and Leela are together and then all your hear is the sizzle of steam. Though Ram and Leela believe in the power of love, they are dragged into the mess and before you know it, they become rivals. Leela becomes the leader of her community, the Sanedo. Does this mean that the love story comes to an end? You have to watch the film to know that.
Performances
Once again Deepika Padukone delivers a good performance, as was expected. However, Ranveer is the surprise package. Bhansali has managed to get the best out of him. If DP charmed with her graceful moves and beauty, Ranveer has given a solid performance. From his dialogue delivery to his comic timing, the young actor gets it all right. And how can we forget the chemistry that he shares with his co-star! There are quite a few kissing scenes, but they have been shot aesthetically. There are a few scenes where Singh completely overshadows Deepika. In one, Ranveer says, " Ab hum dushmani bhi nibhayenge, pyaar se." Though Dippy is present in the frame, all you see is SLB's Ram. His presence is so strong and charismatic. Also, his shirtless act is visual treat. Supriya Pathak does full justice to her villainous role. After a point, you actually start hating her. Richa Chadda, Barkha Bisht, Sharad Kelkar and Gulshan Devaiah have played their parts well.
Verdict
Goliyan Ki Rasleela Ram-Leela is surely worth watching. Besides Ranveer and Deepika's performances, Bhansali's music is captivating. While the story of the film is not extraordinary, Bhansali's brilliant execution is what makes it special. Priyanka Chopra's item number is nothing less than exotic – it's like icing on the cake! Watch this one for stellar performances, great music and because it has been shot beautifully.
PS: Don't expect too much and you'll be satisfied after watching the film…
Rating:
out of 5
Reviewed by Namrata Thakker
* Poor
** Average
*** Good
**** Very good
***** Excellent