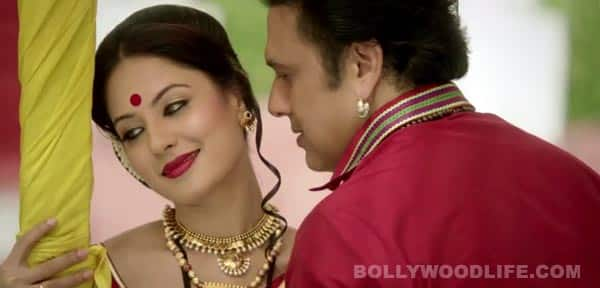 The Kisi disco mein jaayein actor has released his music album and we present to you, the title track. Read on to know what to expect…and what not to!
Mangal Tara TV and Films has come up with Govinda's new music album Gori Tere Naina and the title track Gori tere naina is a soothing number with the roller coaster effect of many high pitches and low ebbs. When you listen to the song, it appears to be a clear amalgamation of two yesteryear hits—Gori tera gaaon bada pyara and Mujhe neend na aaye. Although the song is pretty good, we couldn't help but get upset (read pissed) about the video.
Shahrukh Khan, Salman Khan, Aamir Khan – in fact, almost all the leading B-town heroes have romanced heroines half their age. But here's how they do it – they try to maintain their looks and physique at par with the young lasses. On the contrary when Govinda does the same, you will squirm in your seats with disgust because they look like father and daughter, dancing on a romantic number, ewwwww…
It is supposed to be a Navratri song, except that there is no one dancing apart from the lead pair—Govinda and Puja Banerjee (Parvati from Devon Ke Dev Mahadev). The song has the classic Govinda signature latke jhatke but you would be left wondering as to what Puja Banerjee is doing – 'moving' or 'dancing'. Also, the sets look horrible, as if someone rented it out after finishing off their own wedding in the zest to make some extra bucks.
The songs are written and sung by Govinda. We really want to wish Govinda a great musical future, but we would still plead him to either get into shape, or stop dancing with heroines half his age and give us creeps.
[flv image="http://st1.bollywoodlife.com/wp-content/uploads/2013/12/Gori-tere-naina-2.jpg"]http://st1.bollywoodlife.com/wp-content/uploads/2013/12/Gori-tere-Naina-new-1.flv[/flv]