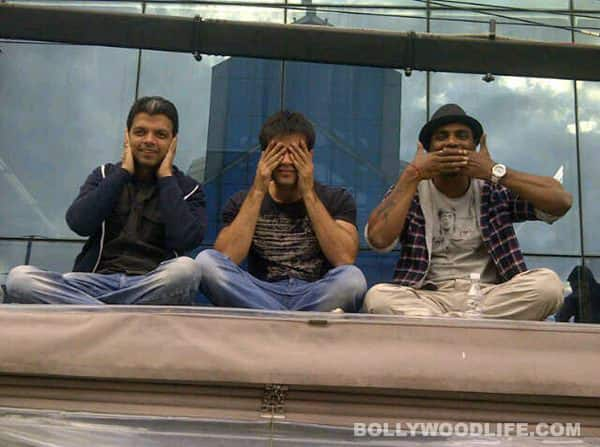 Director Punit Malhotra knows how to create enough buzz around his films. So, did he ask the team of his forthcoming release to pose this way and then circulate the picture on a microblogging site?
Looks like both Karan Johar and director Punit Malhotra just can't hold their horses. After announcing the shoot of their forthcoming movie Gori Tere Pyaar Mein – starring Imran Khan and Kareena Kapoor in the lead roles – there has been a constant look-at-me tweets pouring both from the producer as well as the director. Punit could not contain his excitement about the project and had earlier tweeted, "Our IMRAN-KAREENA starrer starts today…Gori Tere Pyaar Mein!!! Directed by @punitdmalhotra."
After that tweet, we have been flooded with more visuals. In this funny one, we see the cast and crew of the film – Mahesh, Punit and Remo D'Souza – adopt the famous monkey pose. "Mahesh, Remo and me… Waiting for the correct light to begin filming," tweeted the over-zealous director.
But hey Punit, we want to see more of Imran and Kareena from the sets and not just you and your histrionics!