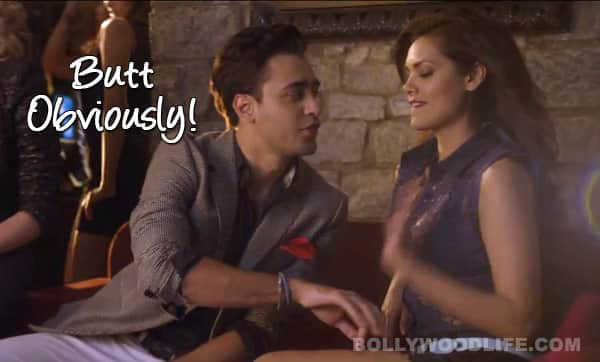 Visually electrifying, this party track is trying too hard to be kickass. With the thanda music and 'not-quite-cool lyrics' the makers of this one should do what they are advocating here-kiss their arrogant behinds-for producing this wannabe track
Looks like the lyricists and the music composers of Gori Tere Pyar Main are highly obsessed with asses. This is the second song of the album that deals with posteriors after their first descent offering –Tooh. Now if you are not particularly interested in enriching your vocabulary, let us inform you that Tooh stands for the fleshy part of the body you sit on.
And now in this new club number-sung by Sanam Puri and Aditi Singh Sharam and composed by Vishal Shekhar- we see Imran Khan and Esha Gupta dancing the whole night away squealing Main ghar nahi jaana (I don't want to go home) and shouting 'Kiss my ass' throughout the number.
Though the new track is quite happening visually with Imran presetting his suave and urban self and Esha Gupta setting the dance floor on fire with her sizzling presence, we were not impressed with the air of fake arrogance the song has about it.
While we loved the chemistry between this unusual pair-Esha Gupta and Imran as much as what this song has to offer visually, we wish if the director had paid more attention to the lyrics and music rather than asking people to use their pouts to kiss the starry behinds!