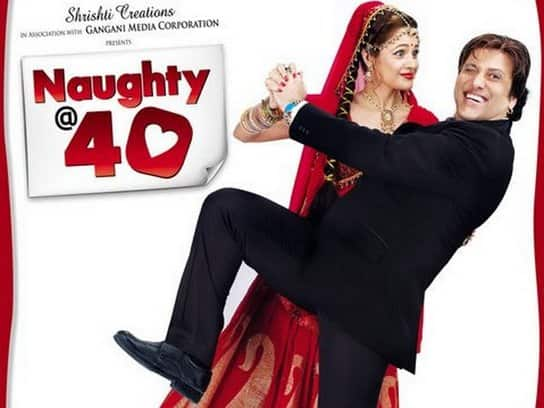 The filmmaker talks about working with Govinda in Naughty@40 and about his forthcoming film Kissa Kutte Ka

The maker of issue-based films like Provoked: A True Story, Shoot on Sight and Bawandar, and thrillers like Apartment and Chase, is now making a comedy film with Govinda, titled Naughty@40. We chatted up with Jagmohan Mundhra to find out what made him change his genre…
You have worked with the likes of Aishwarya Rai, Nandita Das and Naseeruddin Shah, all in issue-based films. What made you want to make a comedy? And that too, with Govinda, who is not exactly in his prime?
We are creative people and believe in pushing our limits. Whether it's a comedy or an issue-based film, our job is to tell a story. The craft and tools are the same. It's just a question of what kind of content you're creating. And I have never tried comedy. You get pigeon-holed – everyone wants you to make similar films. I got a chance to change with Naughty@40. But honestly, it was Govinda who approached me with this film. He wanted to make it. I had apprehensions about taking it up, but he said to me, 'I want your vision and my audience'. He imposed a lot of faith in me. So, I have actually depended a lot on him. He knows his audience. He has a huge fan following which has not been satisfied with his recent works, because they haven't seen his signature style in it.
What delayed the film?
We began the film in 2008. Govinda had met me after I finished shooting for Shoot on Sight. We finished a 20-day schedule of Naughty…. After that the whole scenario changed in Bollywood. Film finance started drying up. Plus, after Partner, Govinda was hot again. So, the entire economics changed. The studio financing us backed out and hence we didn't shoot anything in 2009. We revived the film in 2010 by bringing in private finance. Govinda cooperated a lot and is an equal partner in the production.
Which means Govinda will have a share in profits, right? Seems like he too has caught on to the trend of top actors asking for a share in the pie…
Yes, he will have a share, which is fair. But he is not asking for too much. Actors demand profit-sharing and much more.
Are you trying to help him resurrect his career? He hasn't had a hit after Partner and he had a small role in Raavan.
Who am I to resurrect anyone's career? I am very happy to have joined hands with him. He has shown tremendous faith in me, without me having any background of doing such kind of films. We met in London, and he brought together everyone for the project, including the producer. Every Friday at the box office, an artiste's fortune is decided. That doesn't take away the intrinsic talent of the person. Even Govinda's biggest detractors accept that he is a very talented actor. His comic timing is perfect, and you might think he is plump, but his dancing ability is still the best.
Why the title Naughty@40?
Govinda is in his 40s, and we have not tried to defend that by showing him as a college student or something. It made sense to have a title like that. It is the story of a guy who wants to marry at 40 but there are no girls available.
Who are the girls in the film?
There are Yuvika Chaudhary and Sayali Bhagat. There's also a Russian called Lucia (credited as Edward Lucia). She is a very beautiful girl. I met her in London when I was making films there, and she was keen to be a part of Bollywood. So, I got her here. She plays Govinda's love guru.
How was the experience of directing a comedy?
Going by the reaction of the fraternity, the film is funny. Not an intellectual comedy, a low brow one – but it is not pretentious. It is of the same genre as Govinda's Raja Babu and stuff, but I have added my touch to it. The film is different from today's comedies, where often one gag is not connected to the other. It's funny but it's been unnecessarily put in. In my film, it's all connected and there is a consistency in the story.
What are your new projects?
My next project is called Kissa Kutte Ka. It's a political satire, not meant for the same audience as Naughty@40. It's witty, tongue-in-cheek humour. It has a very large, ensemble cast. It takes a dig at the paradox and absurdity in India. On one side, we have the Commonwealth Games and development and foreign investment. And on the other, there is an incident in a village where a higher caste man is upset that his dog was fed by a lower caste woman. Moreover, the local Panchayat rules that the dog has now become lower caste and needs to be purified! We are trying to portray the paradox.
So, are you casting only newcomers in the film? No stars?
It's an ensemble cast through an online portal, for which I have tied up with S. Kumars. But there will be respected actors like Tannishtha Chatterjee, Seema Biswas, Sarika, Raghubir Yadav and so on. But there are also 50 other roles in the film, and each one is very important.
But who is the central character, which you will use to promote the film?
The dog – it's the central character. That's why the film's title is Kissa Kutte Ka. It's a black mongrel called Sheroo.
Are you fond of pets?
Yes, I am. But my wife is not too fond of them, and so we can't keep them at home.
You are an IITian. So, have you seen 3 Idiots, and could you relate to the characters?
Yes, I could relate to a lot of it. I was studying engineering, but I wanted to be a filmmaker. That's why the film connected…it was very well done. I even wrote a blog about it…. I enjoy watching all kinds of cinema.