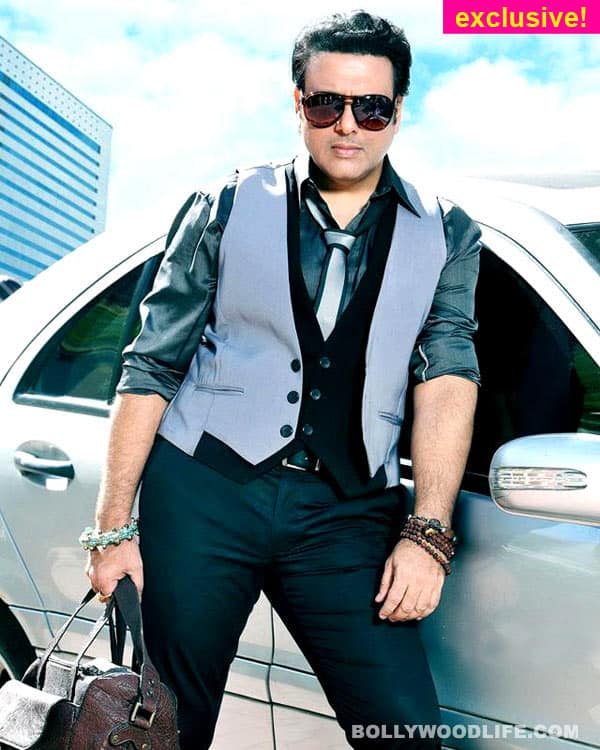 In an exclusive interview, the Hero No 1 talks about his new innings (now how many was that?), three lucrative film projects, judging Indian Model Hunt (IMH), fashion, working with Salman Khan, newfound professionalism, punctuality, competition, daughter Narmmadaa and much more…
Tracking down Govinda is a Herculean task. The process is long and tedious, but not unachievable if you are patience personified! It took two days this time, of continuous, rigorous follow up and countless text messages and phone calls. But it was Govinda, after all. The man who, from his days as romantic hero in the 80s and early 90s, to the comic hero of the late 90s, was always the superstar of the masses. A failed innings as producer and an ill-fated decision to enter politics – all in an attempt to get closer to his audiences – took the star further away from his fans.
But now, the new 'improved' man who is fondly called 'Chi Chi' has turned a new leaf, from being a gaudily-dressed actor to a suave, sophisticated dresser (is it the IMH effect?), he certainly has evolved. Govinda has metamorphosed from the carefree coolie to a real cool dude (look at the pic!). Chi Chi is building a new castle for himself and we hope that it doesn't get washed away before the tide turns once again. We met him at his Juhu bungalow for a free-wheeling chat….
Welcome back, Govinda! In your new innings, the announcements are flowing out fast. The industry seems to be waking up to your existence once again….
I think the wait to do good work with good people has been worth it. I'm anticipating good things from life now.
You must have missed the limelight. What do you feel people think about Govinda the actor now?
A man should never leave his roots. I have always been very clear about my film career. Now, I've decided to give all of myself to my acting. In my new innings, I feel good that I'm still a star and the audiences still loves and appreciates my work, as they did earlier. An actor's life is all success and failure and I've been through these stages of life.
Hits and flops are part of life. But for you the struggle just doesn't seem to end!
Nothing can keep you down except yourself. If you give up, it's the end of you. You can't give up if one film is not a hit. As I said, whatever I've been offered, I'll perform to the best of my abilities. The rest is destiny. There's no time to think now.
You've also had fair share of chances. Why?
I've been very fortunate, despite my films that didn't do well in the past. Yes, it does affect economics of the film. But all the filmmakers I have worked with have wanted to work with me again. An actor should always have the attitude of a newcomer.
Certain people from the industry believe that you are still very difficult to deal with and unapproachable…
I guess people whom I don't intend to work with spread such rumours. I want to work with directors who want to make good films. I don't want to associate myself with people who have wrong motives. When I say 'no' to such people, they turn back and call me difficult and unapproachable.
Why Indian Model Hunt (IMH)?
I feel IMH is an opportunity God has created for today's youth and for me. It's a new platform for them and also for me. This is something I haven't done before. It was beneficial in every aspect, not just the money. I don't think whether it will be a success or failure. I'm working hard with the right attitude.
Over the years, television has changed drastically and has become more time consuming and strenuous. Are you physically fit enough to take on the pressure?
I think the working style has improved. It has become easier now. The shooting schedules are planned and organised. I've attended couple of TV shows recently like Nach Baliye and realised that people have become more professional.
We hear that the show's organisers are worried about whether you'll report on time…
I realised the value of time much later in my life. I used to report to Mani Ratnam's sets for Raavan at 4 am, but the unit members were shocked and there were debates as to how Govinda could be on time! Rather than discussing work, the focus was more on me coming on time. Ab kya bolu!
Industry fashionistas who criticised you for your zany dressing sense over the years are shocked to know that you'll judge IMH…
I know I didn't pay attention to my dressing style and wasn't fashion conscious in my time. But the fact is that I didn't have time to even think what was right and what was wrong, then. I considered these things secondary. But as they say, you're never late to learn anything good; likewise, I'm sure I'll learn lot from IMF. Hopefully you won't see me in red pants and checked blazers henceforth (laughs).
David Dhawan recently said, 'There can't be another Govinda'.
Yeh toh David ka baddappan hai. I guess people react to you differently at different times. We (David and him) can't make films that we did in the 90s, now. I feel I'm at a position where I need to improve and work on my personality and my choice of films. When you reach a level, you have to play it very safe. You cannot afford to go wrong. How you sustain and maintain your level is very important.
Do you think you failed to maintain your level and handle your star power?
I didn't say that. I used it to the best I could. When I was relatively free and not shooting, I made the best advantage of it by re-inventing myself, thinking of what to do next and how to take correct decisions.
You never worked in a Yash Raj Film in your long career, like your buddy Salman Khan, who did Ek Tha Tiger last year. Did you follow your partner's footsteps?
No, I liked the film's script, so I agreed. Yash Raj Films had offered me films earlier too. I had a chance, but I was extremely busy with several film commitments. I was doing six shifts a day… can you believe that! Subhash Ghai and Sanjay Leela Bhansali offered me character roles, but I didn't do them because I considered myself a star then (laughs loud)! After I quit politics and was jobless, people started assuming and speculating that I'm not interested in films any more. My life has been a roller-coaster ride.
What about your film with Sallu directed by Mahesh Manjrekar?
Oh yes! I'm quite excited about that. The script is being written and I can't comment on it now, but all I can say is that it will be fun to work with Salman again.
Reportedly, you play a villain in YRF's Kill Dill…
(Interrupts) Who told you I'm playing a villain? It's too early to comment on anything related to the film.
You're 40 plus now. In the age of Ranbir Kapoor, Ranveer Singh and Arjun Kapoor, where do you see yourself?
Why do I compare myself with them? They are new. So they have to see where they stand in front of actors like me! (Laughs loud). Just kidding!
Your daughter Narmmadaa has been trying to get into films for the last four years. What's stopping her? Being a father, you must be really worried…
She's waiting for the right subject. Nammo is a good girl and very hardworking. I want her to debut with the best project.