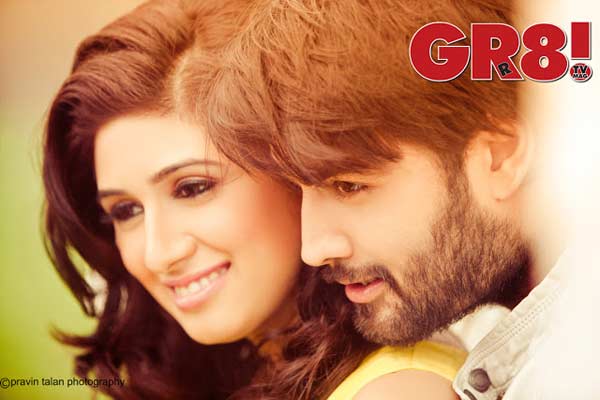 skip advertisement
Well known small screen couples got close up and very personal in a shoot for the GR8 Love Stories calendar 2014…
It's the start of a new year and the air is abuzz with colourful new calendars predicting 2014 to be the hottest year in entertainment. Recently Dabboo Ratnani launched his 15th calendar and B-town celebrities like Shahrukh Khan, Priyanka Chopra, Sonakshi Sinha, Bipasha Basu, Alia Bhatt, Varun Dhawan, Sidharth Malhotra, Salman Khan and many more were part of it.
Following closely behind comes the GR8 Love Stories calendar marking ten years of GR8, the TV magazine. The theme this time is love and romance. The 12 months feature real life couples who are popular on the small screen like Raqesh Vashisht-Ridhi Dogra, Ravi Dubey-Sargun Mehta, Gurmeet Choudhary-Debina Bonnerjee, Manav Gohi-Shweta Kawatra and many more putting their romantic, passionate and loving sides on display.
Manav Gohil and Shweta Kawatra: The two have been married since 2003 and still look head over heels in love. Notice the passion in Manav's eyes for Shweta and you will go weak in the knees.
Raqesh Vashisth and Ridhi Dogra: The photo shows off the dynamics between the couple. Raquesh is a talented painter and Ridhi, his eternal muse, the lady who inspires him. Awww…
Shaleen Bhanot and Daljeet Kaur: Who said only to-be mothers glow? This picture frames Daljeet noticeably pregnant and Shaleen, the loving husband and father-to-be, doting on his wife.
Aamir Ali and Sanjeeda Sheikh: A loving couple looking hopefully at the future – Aamir and Sanjeeda look towards the horizon. And their smiles light up the present…
Ravi Dubey and Sargun Mehta: You can almost hear Ravi promising Sargun his support forever. The candid, joyous picture frames the vows the couple recently took…
Vivian D'Sena and Vahbiz Dorabjee: It's all about love! The cute photo conveys the simplicity of the relationship shared by the two.
Mohit Malik and Addite Shirwaikar: With the ghats of Khandala in the background, this mad, playful couple makes the most of a romantic location. Hai na?
Gurmeet Choudhary and Debina Bonnerjee: This jodi loves to have fun with each other, even in the bedroom. And the elation glows in the eyes of both Debina and Gurmeet…wink wink.
Mazhar Sayyed and Mouli Ganguly: They've been together for ages and Mazhar still closes his eyes while kissing Mouli. It's magic, even today!
Barkha Bisht and Indraneil Sengupta: The relationship is spiced with raw sex appeal and flavoured with romance. And Barkha and Indraneil are lost in each other in the water.