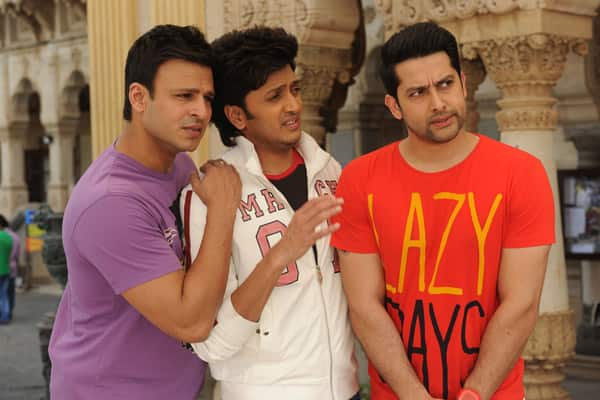 The makers of this sex comedy insist that critical acclaim doesn't matter to them. But the fact is that they have made a shamelessly filthy film called Grand Masti for which they should be hanging their heads in shame, in disgust….
So gross is Grand Masti that young couples (the target audience!) were seen walking out of the theatre mid-way, even before before the interval. Just because I had to tell my readers how bad GM is in totality, I had to sit through the entire film.
Nothing could be worse than watching this film, unless it is to a review of it. Trust me, I have been through enough trials and tribulations in the name of Zila Ghaziabad, Himmatwala and Once Upon Ay Time In Mumbai Dobaara, among others, as have my colleagues in film journalism. But it's especially difficult to believe that Indra Kumar is the director who once made entertaining films like Dil, Beta and Ishq. Grand Masti (GM) happens to be a new direction for the very same filmmaker and it's a pity that he chose to take it on. He hasn't had a hit for a long time and this one doesn't promise to change his f… oops, sorry!… we mean luck for the better (blame it on the after-effects of watching GM).
Let's accept it – sex comedies sell, but in our hypocritical society no one will openly admit to liking them for some strange reason… could it be double standards? Milap Zaveri, who scripted Masti, the first-of-its-kind adult comedy, and has also penned its sequel Grand Masti, says that Indians have always loved sex comedies. Yes, we like intelligent ones Milap, but not the deliberately downmarket, cheap, vulgar and cheesy kind! What we must say here is that Masti was also an eye-opener that took Bollywoodian sexual comedy to a new level. It was a pioneer in a subject that Hindi movies had been leery of exploring.
We have all received SMS forwards full of sexual innuendos, some funny and some just plain predictable. But imagine a two-and-half-hour long series of these 'jokes' and rip-offs of Hollywood's iconic scenes – this time Aftab Shivdasani does a Jim Carrey act a la Ace Ventura when he tries to escape from a buffalo's ass – or Mr Bean in desi translation. Indra Kumar has collated a bunch of such gags and invited a group of actors and his crew to the party…oh, yes, somewhere along the way he filmed it all.
It seems Zaveri was too lazy this time to create a real plot, so GM is merely a series of bad and vulgar jokes that allows the writer to throw in as many puerile sexual innuendos as possible. It only consists of gags, spoofs and smut. Each line, each scene reiterates the fact that it is a sex comedy. In fact, it drills that into your brain so hard that by the end of it you want to grab something far stronger than an aspirin to dull the pain.
The girls – Bruna Abdullah, Karishma Tanna, Sonalee Kulkarni, Kainaat Arora, Maryam Zakaria and Manjari Fadnis – don't have much to do, but they serve their purpose by looking sexy and wearing itty-bitty clothes. We certainly do not recommend you see Grand Masti, since it's an assault on the brain and the soul. But we know you'll watch it anyway!
Rating:
out of 5
Reviewed by Dhiren Trivedi
* Poor
** Average
*** Good
**** Very good
***** Excellent