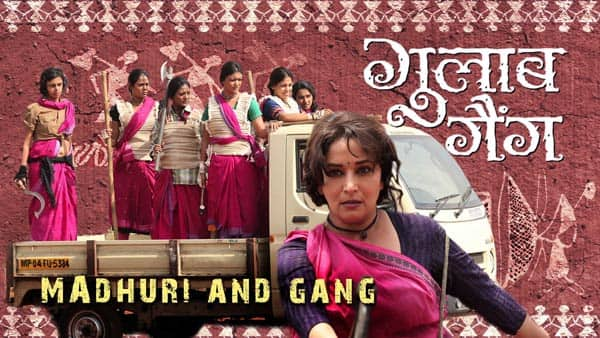 The Dedh Ishqiya actor praises all the other actors and tells that the secret behind great onscreen chemistry with others
The makers of Gulaab Gang are out with the 'making of the film' and this episode describes how Madhuri Dixit-Nene formed the all-ladies gang. Madhuri formulates this gang of women who are essentially saree weavers and tells them that they should not be oppressed by men. Madhuri asks them to defy the common norm of a male dominated world. Apart from Madhuri, the gang also includes superb actors like Tannishtha Chatterjee, Divya Jagdale, Priyanka Bose, Lata S. Singh, Vinitha Menon, Rani Patel and Tanvi Rao.
So why does this specific group of ladies come together under the leadership of Madhuri? Director Soumik Sen informs, "This gang of ladies come together to be economically self-sustaining. They weave baskets, make masala and weave clothes. They are essentially saree weavers and that's how they end up coming together."
The making of Gulaab Gang shows how all these actors bonded behind the scenes. It shows how they practiced the scenes and how they were all on the same page while talking about women empowerment. Madhuri is seen telling as to how brilliant the other actors in the gang were. Tannistha informs that after a certain point of time all the actors actually felt like a gang and all was possible because of the superb bonding behind the scenes.
Now only time will tell how well this bonding has come out onscreen. Hai na peeps?
[flv image="http://st1.bollywoodlife.com/wp-content/uploads/2014/03/gulaab-gang-making-1.jpg"]http://st1.bollywoodlife.com/wp-content/uploads/2014/03/the-making-of-an-all-ladies-gang.flv[/flv]