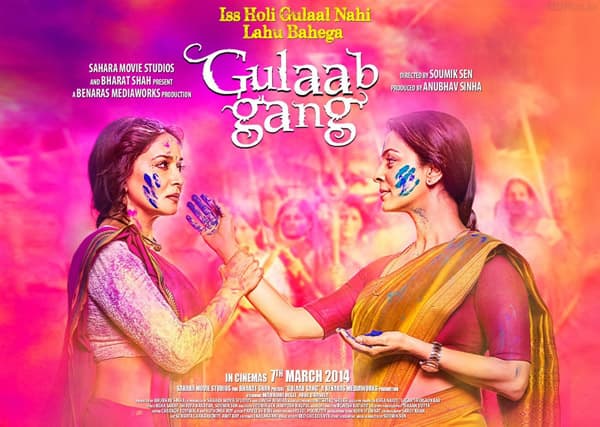 Juhi's evil and mean avatar in Anubhav Sinha's latest offering is something to watch out for
After a lot of controversies (read: publicty gimmick?), Gulaab Gang, which brings together Madhuri Dixit Nene and Juhi Chawla for the very first time on celluloid, will hit the theatres today (March 7) as per schedule. We got to watch the film before the entire world and we must say that this face-off between the two former contemporaries was totally worth watching.
Plot: Gulaab Gang begins with a voice over by Anil Kapoor, who introduces us to the world of Rajjo (played by Madhuri). He narrates her struggles to get educated in Madhavpur village, where it's a crime for girls to think about studies. However, she fights the stereotype and paves a different path of her own. As she grows up, she turns into the pink-clad feisty crusader, who runs a sangathan – Gulaab Gang. She heads this group that has lathi-wielding women in pink sarees and together they fight against social injustice. They not only tackle the issues of dowry and rape, but also deal with the issues that deal with basic necessities like food, electricity and water. As the film continues, this Gang's focus shifts into an election war, when Rajjo decides to take on the mean and cherubic politician Soumitra (played by Juhi). The rest of the film is about the ultimate fight between these two powerful ladies who follow two different principles.
Performances: Madhuri surely impresses as the leader of this girl gang. We were totally blown away after watching Ms Nene doing those high octane action scenes. Though the dhak-dhak girl enjoys more screen presence as compared to Juhi, it's the latter who shines brighter in this film.
It's quite surprising as well as delightful to watch Juhi, who is known for her angelic roles, playing a mean evil politico head. She sends policemen on sick leave when they refuse to bow in front of her. She takes revenge from people, who call her 'Soumitra' instead of addressing her as the 'Madamji'. She mock tears during a political speech as she talks about her late husband and in the next scene curses the insurance company for not giving her the due money. The time has come to get over from Juhi's bubbly avatar in films like Qayamat Se Qayamat Tak, Ishq among others as Bollywood has got it's new villain in Juhi.
Divya Jagdale (as Mahi) and Priyanka Bose (as Sandhya), who form the supporting cast of the film deserve a special mention here. Gulaab Gang wouldn't have been as feisty without them.
Director Soumik Sen's casting coup has not been wasted, we must say. Yes, the film is based on the life based on the life of activist Sampat Pal and there is a particular scene in the movie, which is based on true events. We wish he had acknowledged Pal's movement in some manner or the other. That way, the film would have stayed away from the unnecessary controversies. That apart, Sen surely deserves a pat on his back for choosing a subject of serious concern.
Talking of the shortcomings, having way too many songs in such a serious film is not happening at all. There's a song at every juncture, which might irritate you a bit. No complaints other than that.
Our verdict: Watch Gulaab Gang for Juhi Chawla. Nuff said!
Rating:
out of 5
Reviewed by Vinod Talreja
* Poor
** Average
*** Good
**** Very good
***** Excellent