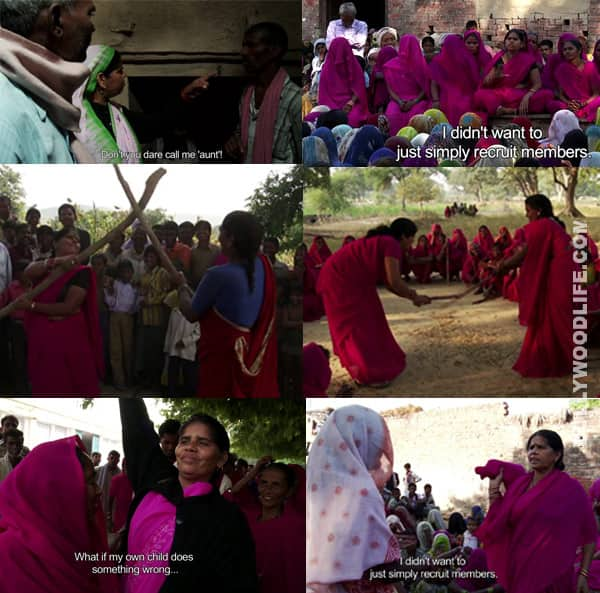 Madhuri Dixit-Nene and Juhi Chawla's Gulaab Gang trailer did impress us. But when we watched the trailer of this documentary and we were lost for words
Not so long time ago, the trailer of Anubhav Sinha's Gulaab Gang released and now the trailer of Nishtha Jain's Gulabi Gang – The Documentary is out. Gulabi Gang's trailer is so realistic that it sends a chill down your spine. It makes us question the wrong doings that happen in native villages. Gulabi Gang tells the story of Sampat Pal, who started off the gang. In the trailer, we get to see that a crime has been committed, a woman was burnt to death, but the police record it as an accidental death. Reacting to such crimes, the Gulabi Gang emerged strong. So, who joined this gang? None of the ladies in pink were forced to be a member. Only those who felt like lashing out against crime joined the Gulabi Gang. Of course, when women voice out in a male-dominating society, there is an uproar to diminish their strength. We get a close look at Gulabi Gang's struggle in the documentary's trailer.
It'd be wrong to compare between Gulabi Gang and Gulaab Gang as the latter's director has said that his film isn't about Sampat Pal's life. But, both, the documentary and the film do have the pink ladies gang in common, don't they? While Madhuri Dixit-Nene's film is bound to be more commercialised, Sampat Pal's documentary offers reality. It demarcates between real and reel while showing Sampat Pal's battle against crime.
Gulabi Gang – The Documentary is slated for release on February 21 and going by the trailer, it looks promising.
[flv image="http://st1.bollywoodlife.com/wp-content/uploads/2014/02/Gulabi-Gang-Documentry1.jpg"]http://st1.bollywoodlife.com/wp-content/uploads/2014/02/Gulabi-Gang-The-Documentary.flv[/flv]