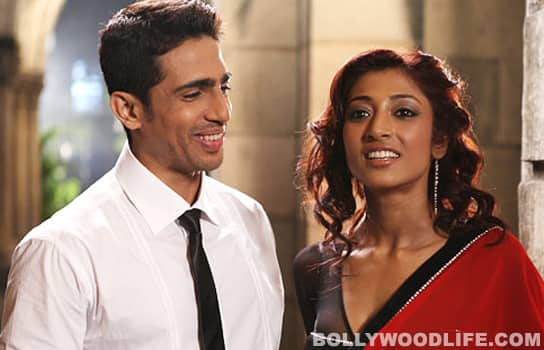 The Shaitan actor doesn't mind playing the bad man and confesses that he is not the typical good looking guy who can woo girls and sing songs atop hills
As an actor, Gulshan Devaiah finds lip-syncing and dancing the most challenging things to do. He thinks it is way easier to stand butt naked in front of a huge audience and crack jokes. In a candid chat, he spoke about how things have changed for him after doing three films and with the fourth, Hate Story, releasing soon.
Have things changed since you made your debut in That Girl In Yellow Boots?
Yes, it feels great, as many people know me and are offering me roles that are edgy and challenging. It was a surreal feeling to be at the awards ceremonies, especially Filmfare, since I have grown up watching it year after year. Not taking away from the other awards ceremonies, but it would have been great if I had won a Filmfare award. I am probably the only actor who was nominated for three films (Dum Maaro Dum, Shaitan and That Girl In Yellow Boots) in one year at almost all the awards ceremonies.
It may not be the greatest achievement as an actor, but I looked it up on the Internet and it felt good. Somewhere inside I knew I wouldn't win; maybe it's not my time yet. It is excruciating sitting there waiting for your category's announcement, then your name is called out and the award is handed out. Before and after that it is only boring or entertaining, depending on the show. If only I had won the Filmfare award…
Weren't you apprehensive about doing 'Hate Story', an erotic thriller?
Two years ago I would not have done a film like 'Hate Story', as thrillers and horror films just didn't cut it for me back then. But I discovered myself and when I heard the story I agreed to do it without blinking an eyelid. I always go by my instincts and so far it has worked for me. I took it up as a challenge and the feedback for the trailer has been mostly positive. Of course a lot of credit for the film also goes to the writer (Vikram Bhatt) and director (Vivek Agnihotri). Also, it helped that I was playing the character of a super-rich dude being driven around in BMWs and Mercs (laughs)!
You recently got married; will that influence your choice of roles?
Not really; my wife is a theater actor herself and she understands the space that I am in. Even before I got married, while I was dating her, I would tell her about the films that I have been offered. As I said earlier, I always go by my instincts.
What was the experience of working with your co-stars – Nikhil Dwivedi and Paoli Dam – like?
I do not have many scenes with Nikhil, but whenever we were shooting together it was fun, as he is a chilled out guy. Paoli Dam is a thorough professional and I think if it wasn't for her, shooting those intimate scenes which involved some amount of nudity would have been very awkward. I don't think any other actor could have pulled off the role like she did. Thanks to her professionalism, everyone on the set was relaxed, as we all knew at the end of the day it was just a job that we were doing.
You are being slotted as the bad boy in Bollywood – does that bother you?
I think that is my strength. I know there are so many other guys who are better looking than me who can play the good guy roles. As an actor I know my strengths and weaknesses and I am comfortable in the zone that I am in. Also, not all roles are totally negative; they may have a grey shade, but we all have our own closet demons, don't we? Let me tell you that in my next film, Peddlers (working title), which has been directed by Vasan Bala, I am playing a positive role. Truth be told, I find it very challenging to do what the regular leading men do on-screen. The singing and dancing scares the living daylights out of me. In Hate Story there was a song and I bled through my behind by the time we were done shooting it.
Tell us a little more about Peddlers.
I met the director of Peddlers, Vasan Bala while I was shooting Anurag Kashyap's That Girl In Yellow Boots, for which he was an assistant director. We became friends and when I was shooting Shaitan, he came up to me with the story of Peddlers. I was so impressed that I agreed to do the film immediately. The film is about the drug cartel and my character's fight against it. Vasan is one of the nicest people I have met, very well behaved, sweet and a shy guy. The good thing is that though he has assisted Anurag for a long time, he has found his own voice as a filmmaker, which is very rare. I think other than the song sequence I shot for Hate Story, Peddlers was the most challenging thing for me as an actor. (Laughs)
How different is it working with established directors like Anurag Kashyap and first-timers like Vasan Bala and Bejoy Nambiar?
The only thing is that there is more camaraderie with the new bunch. There is lot more freedom to ask questions and make suggestions. With filmmakers like Anurag, you mostly keep your mouth shut, just out of respect for the films he has made. When I was shooting with Vasan, the atmosphere was more chilled out, as we shot the film organically. 'Peddlers' wasn't made with a tightly bound script, which is not the case with Anurag's films. Nevertheless, both were enjoyable experiences in their own ways and I loved being a part of both films.