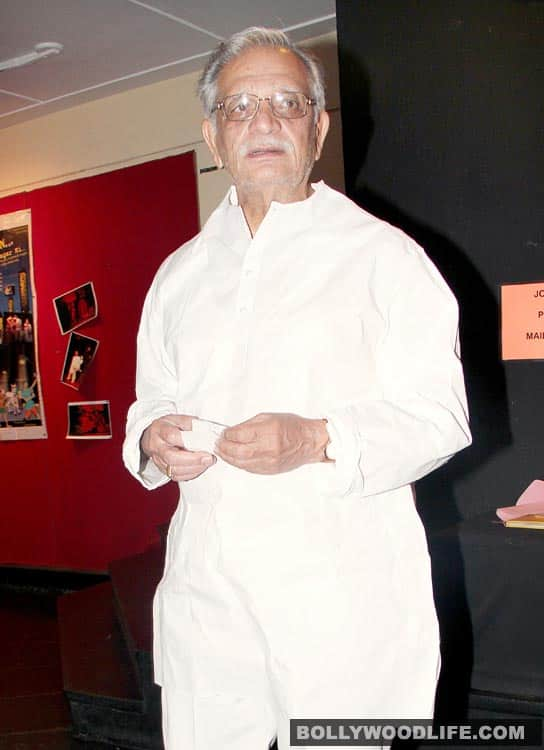 After the Grammys, Gulzar is honoured with the highest award in India, the Dadasaheb Phalke award and here is our tribute to his creative genius
Gulzar was recently revered for his contribution to the Hindi film industry with the Dadasaheb Phalke award. We too at BollywoodLife decided to add our two bits by revisiting some of his musical classics that have etched an indelible mark on our hearts. Born in 1934, in the Jhelum District of Pakistan, as Sampoorna Singh Kalra, Gulzar acquired his pen name after becoming an author.
His writing career began in 1956 much to his father's discontent. After penning several memorable songs Gulzar ventured into direction and production. But his first love continued to be writing and Gulzar kept at songwriting and poetry throughout his career. His works spans across three decades of Indian film history and we aren't anything but grateful for the same.
Gulzar has scribed a plethora of time-transcending melodies that never fail to warm the listeners' hearts. Every song written by the living legend has a distinct aroma; there is a Gulzar song for every mood. Gulzar has worked in association with the most esteemed music-makers of the film industry but we love his creations with Ilayaraja, RD Burman, Vishal Bhardwaj and AR Rahman the most.
What makes Gulzar unique is not only his unparalleled creative talent but also his effortless charm that spellbinds every generation. From writing songs and dialogues for children's shows like Jungle Book to having the country groove to Kajra re, to writing the Grammy-award winning Jai Ho, Gulzar has done it all. His words cater to every possible emotion one can feel. His poetic work too mirrors the depth of Gulzar's genius most accurately.
Though we believe that every song written by Gulzar is eternal and putting together a top-7 list of Gulzar's hits is impossible, we wish to pay our tribute to the maestro by listing 7 songs written by him which feature on every Bollywood music lover's playlist.
Ae zindagi gale laga le – Sadma (1983)
 Aanewala pal jaane wala hai – Golmaal (1979)
 Tum aa gaye ho noor aa gaya hai – Aandhi (1975)
 Tere bina zindagi se koi – Aandhi (1975)
 Tujhse naraz nahi zindagi – Masoom (1983)
 O majhi re – Khushboo –  (1975) 
 Naam gum jaega – Kinara (1977)
Gulzar's unceasing influence will be seen on generations to come and we hope that the magic created by him in the Bollywood music industry never dies.