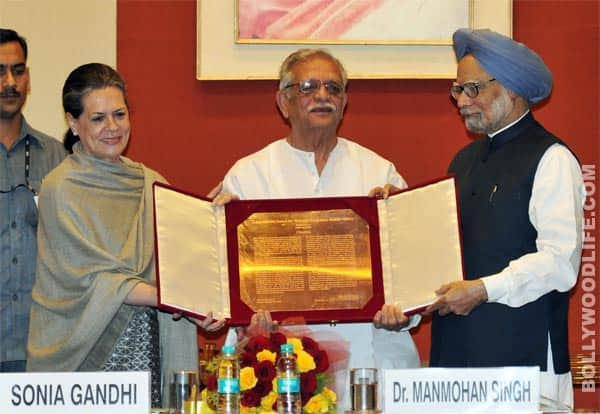 Bollywood director and poet Gulzar is spreading the message of peace and brotherhood in the country through his work, said PM Dr Manmohan Singh
Congress president Sonia Gandhi Wednesday awarded the Indira Gandhi National Integration Award to well-known poet, lyricist and film director Gulzar. The award was given to mark the 28th death anniversary of the late prime minister, who was assassinated October 31, 1984. "Gulzar saheb is a great personality who is spreading the message of peace and brotherhood in the country," Prime Minister Dr Manmohan Singh said while congratulating the poet for the award.
Gulzar has penned thought-provoking lyrics for songs like Raah pe rehte hain, Do deewaane shehar mein, Hazaar raahen mud ke dekhi, Tujhse naraaz nahin zindagi and Mera kuchh saamaan. He has been versatile and also spun his magic in new age songs like Kajra re and Beedi jalaile.  He has used his poetic talent for late filmmaker Yash Chopra's Jab Tak Hai Jaan as well.
Praising the artiste, the Singh said: "Gulzar saheb is a rare talent. He writes poetry, stories, film scripts, directs films and also writes lyrics for them. Besides Hindi and Urdu, he writes in local dialects like Brajbhasha, Haryanvi and Marwari. Whether it is a serious issue or entertainment for children, the stories, poems and films of Gulzar saheb touch our hearts. He has been entertaining us through his art for over five decades."
Talking about the larger issues concerning the country, the PM said: "On this day, we should think seriously how we can contribute to nation-building."
Referring to the incidents of communal violence in Assam and exodus of people from Northeast from some parts of the country in July, Singh said the forces out to divide the country are still active.