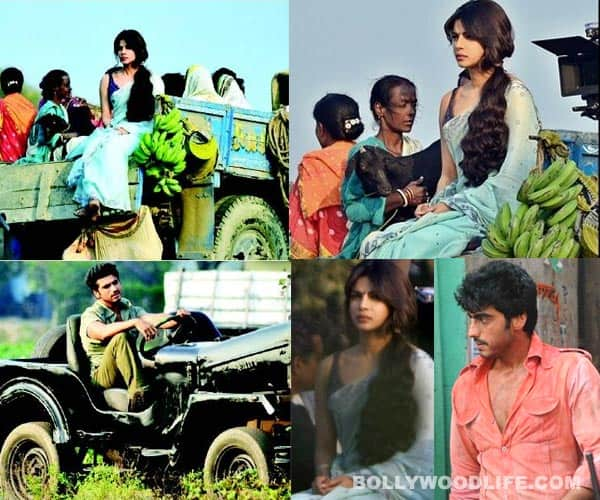 The first look of the multi-starrer movie shows an angry Arjun Kapoor being towed by an angrier Priyanka Chopra!
Kolkata it seems is increasingly becoming the go-to destination for Bollywood, with a string of movies like Kahaani, Vicky Donor, Barfi! and Bullet Raja being filmed there. And on a recent outing in the state last week, we spotted the cast of Gunday including Priyanka Chopra and Arjun Kapoor shooting for the crime drama. Interestingly, more than 50 percent of the film will be shot in Kolkata
The duo was shooting in a lush, little know village called Anandpur, where the '70s era was recreated. Priyanka Chopra looked like a pretty Tanuja, dressed in a sleeveless blouse and blue saree, opposite Arjun who looked quite like an Amitabh Bachchan clone, dressed in a similar avatar wearing a white shirt (blood soaked!) with epaulettes and all.
The scene they were filming had an angry Priyanka riding atop a truck laden with bananas, while Arjun Kapoor was being towed by the same vehicle as his cranky old jeep sported a bust tyre! And no one could miss the scathing looks that the duo was giving each other in the film, which implies some sort of a torrid love affair gone wrong, or probably a love triangle between the three actors, since Ranveer Singh too is a part of the film. Yet they have denied that is the case. Well, seems like we will just have to wait and watch what the trio are going to serve us!
So, tell us how you like their smashing '70s look?